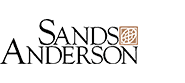 Two local lawyers left a Shockoe Slip law firm for a larger downtown competitor, bringing with them their practice of representing public schools across Virginia.
Brad King and Nicole Cheuk left ThompsonMcMullan for Sands Anderson. Their first day at their new firm was Tuesday.
King and Cheuk have joined the firm's government group, which accounts for about a dozen of the firm's 75 attorneys.
"We're actively interested in growing our practice," said Dan Siegel, leader of the government group.
Sands Anderson is looking to grow even more.
"We do internally have our own strategic plan that is growth oriented," Siegel said.
King and Cheuk represent public school systems across Virginia on all sorts of legal matters, including grievances, student disciplinary issues and contract negotiations.
King is a graduate of Virginia Tech and received his law degree from the University of Virginia.
Cheuk is a graduate of the University of Richmond School of Law and received her undergraduate degree at the College of William and Mary.
Michael Schwartz covers law for BizSense. Please send news tips to [email protected].