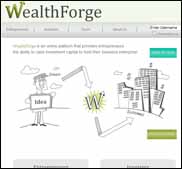 A Richmond startup would have had enough of a challenge with its Nov. 1 public unveiling without one of its partners deploying to Afghanistan.
WealthForge, which is barely a year old, is part social networking and part investment banking: a website where entrepreneurs and investors can meet.
BizSense caught up last week with Matt Dellorso, 24, to see how the firm plans to spread the word about what it does and what it's like running a startup when your partner (Fred Bryant) is fighting a war on the other side of the planet.
The following is an edited transcript.
Ricihmond BizSense: It's been about a year since BizSense spoke with WealthForge. What has happened during that time?
Matt Dellorso: We have been beta testing for a couple of months. We have two closed deals. We have about 20 companies on the platform, 50 investors and about 100 users total. Things have been progressing quickly, and we expect them to pick up.
RBS: What kind of companies scored money in those first two deals?
MD: One was a software and patents deal, and the other was a company that does software and social media.
RBS: How big were the deals?
MD: One was a multimillion-dollar M&A deal. The other was a small fund-raise of about $100,000.
RBS: When the company was still in its planning stages, Fred said the target deal size was under $250,000. Has that changed?
MD: Our target range is probably around $500,000 to $5 million. But it has the scale and capability to do $50,000.
RBS: Will you target local companies initially?
MD: Seven out of the 20 companies are based in Richmond. One is a guy with a patented drum kit, and he's looking for financing to get manufacturing going. We're casting a big net and looking at a lot of deals. We have companies from Miami to Denver.
RBS: Why has it taken almost a year to get to the full launch?
MD: We were a start-up investment bank, and we filed [for regulatory credentials] in 2009. It took us almost eight to 10 months to become a member of FINRA. We've been kind of holding back due to those regulatory concerns.
RBS: Has the company burned through its startup capital?
MD: Our burn rate is manageable. But we do need to do business to keep going.
RBS: Does having the company's founder deployed in Afghanistan present any challenges?
MD: Fred has been deployed for about two months. It was in the business continuity plan. But he has a lot of the mindshare of what we're doing. It certainly adds a challenge to replace that.
RBS: The company uses social network profiles to connect entrepreneurs and accredited investors. How challenging will it be to educate people about how the process works?
MD: It's a huge learning curve. We're just at the precipice of crowd funding in general. There's education on how to use the platform, on the rules and regulations, and how business owners can sell ownership in their companies.
RBS: With similar sites out there and the rise in popularity of crowd-funding sites, how do you spread the word about WealthForge?
MD: I try to go to as many startup events as I can. I go to hundreds of startup blogs. We're also planning on releasing a marketing email.
RBS: How will the company make money? Initially it was supposed to be premium-based site.
MD: It's a free site now, and if we think you have something viable and we want to help out, we'll get a placement agent agreement and we'll take our cut. It's usually a set percentage around 5 percent. We can't work every deal. We want to identify and assess the ones we think we can help out and take our fee.
RBS: Do you have any projections in terms of revenue for the coming year?
MD: For 2012, it's still pretty loose. We're almost profitable now. We're eating ramen noodles and staying very lean. But we are going to try to get bigger.
Michael Schwartz is a BizSense reporter. Please send news tips to [email protected].