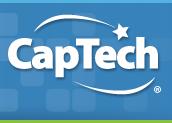 A fast growing local tech company has expanded its presence in Northern Virginia and will soon open a new office in Philadelphia.
CapTech, which is headquartered in the Fan, later this month it will open its first office in Philadelphia. And earlier this month it opened a new 6,000 square-foot office in Reston Town Center after it outgrew its space in Tysons Corner.
Captech also leased new space in Charlotte earlier this year.
The new Philadelphia office will employ 10 people, including two managers who will be relocated from Richmond to run the new location.
The company, which builds custom technology systems such as mobile banking, mobile shopping, and iPad and iPhone apps, has 300 employees and targets financial institutions and Fortune 500 companies.
Captech was founded in 1997 and is on target to generate about $50 million in sales this year, according to co-founder and CEO Sandy Williamson.
It has been on the Inc. 5000 list of fast growing companies the last four years. It brought in $42.8 million in revenue in 2010, up 62 percent from 2007, according to the Inc. 5000 entry.