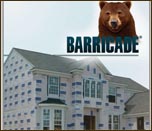 Two Virginia investment firms last week acquired the last remaining local holdings of an Indiana plastics company.
Hanover County-based Barricade Building Products purchased the local house wrap manufacturing operations of Berry Plastics, an Indiana company that recently announced it would close another of its local plants and cut 130 jobs.
The companies did not disclose the financial specifics of the deal.
Barricade is a new division of Specialty Coating & Laminating, a company founded in 2010 by local investment banking firm Smither & Co. Capital Markets and Virginia Beach-based private equity firm Envest.
Envest put up the majority of the capital for the Barricade deal and owns the majority of the new venture.
The deal for the house wrapping operations marks the second time Smither and Envest teamed up through SC&L to purchase some of Berry Plastics local assets.
SC&L was created in July 2010 specifically to acquire a 220,000-square-foot production facility and 18 acres in Doswell from Berry Plastics.
That facility, like Berry's Eastern Henrico plant, was slated for closure until SC&L scooped it up.
"It was a facility they had planned on closing and consolidating, so we put together an offer to buy the assets," said Ken Smither, president of Smither & Co. "We kept it open and brought back some former executives to run it."
That deal preserved 30 jobs at the facility, and the company said the Barricade acquisition is expected to add about 40 jobs by the end of 2012.
Berry had been leasing space from SC&L to run the house wrap production up until it finally sold out.
Both deals were funded with capital from Envest III, a $72 million fund that Envest closed in 2008. The fund has made six investments that range from $2 million to $7 million, according to Envest's website.
Smither would not discuss how much Envest chipped in on the Barricade deal, nor would he disclose any of SC&L's revenue figures. He did say that adding the house wrap operations into SC&L would increase 2012 revenue four-fold.
Smither and five others own minority stakes in SC&L.
The timing of the Barricade transaction is not related to Berry's announcement this month that it would close its Eastern Henrico plant, Smither said, and the operations of the two facilities are not related.
Michael Schwartz is a BizSense reporter. Please send news tips to [email protected].