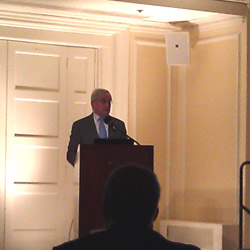 Stop studying and start building.
That was former Pittsburgh mayor Thomas J. Murphy Jr.'s advice Tuesday to an audience of real estate professionals in regards to a new baseball stadium in Richmond.
"I am not a big believer in collaboration or consensus. At the end of the day, there needs to be a grown-up in the room to make a decision," Murphy said. "So many politicians want to be in the process and say they are studying something. You've been doing that with a ballpark for 10 years now, haven't you?"
The remark elicited a round of applause at the meeting, which was hosted by the Greater Richmond Association for Commercial Real Estate and held at the Country Club of Virginia.
The Richmond Braves minor league team left Richmond in 2008 because it couldn't get the city to assist with a new stadium. A plan that year to attract a new team with a new park, to be built in Shockoe Bottom with private and public funds, was scrapped. The Richmond Squirrels came anyway, moving from Connecticut. The team spent more than $2 million renovating the Diamond but has said publicly that they want a new stadium.
Murphy, who oversaw the simultaneous construction of a baseball stadium, a football stadium and a convention center as mayor of Pittsburgh, said a new ballpark or arena in Richmond represents an opportunity to create a vibrant district that could drive economic development.
"The challenge will be whether you have the political will to put it together," Murphy said.
Through public and private sources, Murphy put together more than $1 billion in funds to construct two new stadiums and a convention center, which he said has contributed to Pittsburgh's transformation from a city in decline into a one of the most livable in America. (Murphy and his projects have not been without its critics.)
"When making these decisions about building ballparks and arenas, they shouldn't be thought of as a transaction but as a strategy. How do you use these things to create value and a place people want to be?" Murphy said.
Where that place should be is a divisive issue in Richmond. And the real estate community is no exception.
Attendees were polled electronically, with about a third saying they'd like to see a new stadium built on the Boulevard and another third saying they'd like a new stadium built downtown. The remaining third were divided among saying it didn't matter where a new stadium was built, that it should be in the suburbs, or that a new stadium is not needed.