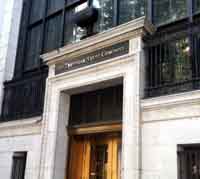 The fox has been let loose in downtown Richmond.
Middleburg Bank, a Northern Virginia-based bank whose mascot is a fox named Mosby, opened its first local branch last week.
The bank, a subsidiary of Middleburg Financial Corp., set up shop downtown at 821 E. Main St., the former Tredegar Trust building. The company owns that building, where it also houses its Middleburg Trust subsidiary.
The bank filed in June for regulatory approval to open a branch in Richmond. A few months before that, the bank hired longtime local banker Andy McLean to grow its presence here.
McLean, the bank's regional head in Richmond and Williamsburg, said the downtown branch opened quietly Thursday. A grand opening will happen later.
For now, Middleburg will concentrate on letting people know that it has arrived in Richmond and that it is "bringing the fox," as the bank likes to say.
It will target all types of customers, both consumer and business accounts.
"We are open to everything," McLean said. "A lot of community banks here in town can't do a lot on the real estate side."
Competition from several out-of-town banks has been heating up since Middleburg decided to test the waters in Richmond.
Kilmarnock-based Chesapeake Bank and McLean-based SonaBank each opened their first Richmond branches last month.
Cincinnati-based Fifth Third Bank recently set up shop in Richmond with a single loan officer. Hampton Roads-based TowneBank entered the market in October with an acquisition of a local mortgage company. And Christiansburg-based StellarOne Bank has said it will open branches here.
Middleburg Bank is based in Middleburg, Va., a Northern Virginia town just west of Washington. The bank was founded in 1924. Its holding company was created in 1993 and now has about $1 billion in assets.
Middleburg Financial has about 20 employees in Richmond working in its trust and mortgage divisions. McLean has added three for the bank operations and will look to hire one more.
The bank has nine branches, mostly in the northern part of the state. The closest it has come to Richmond until now is its branch in Williamsburg,
Its new downtown home will suffice for now, but McLean said the bank has its sights set west.
"Ultimately we'd like to be more in the Near West End as opposed to being downtown. We'll keep our eyes open," he said.
McLean said he'd like for Middleburg to have a branch presence on both sides of the river.
"That will be my challenge," he said.