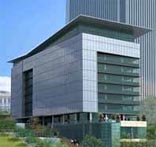 The Trapper Keeper will soon have a new home.
Richmond paper and packaging giant MeadWestvaco will spin off its office supply business and merge it with an Illinois competitor in a deal valued at about $860 million.
The deal, announced Thursday, will combine MWV's unit, which produces popular brands such as Five Star and Trapper Keeper, with Acco Brands, which makes Swingline, Day-Timer, Kensington and other brands.
The transaction is subject to approval from Acco's shareholders and federal regulators, including the IRS. It is expected to close in the first half of 2012.
Once the deal is consummated, MeadWestvaco shareholders will own 50.5 percent of the combined company.
The combined business will be managed by ACCO senior executives and directors based in Lincolnshire, Ill. MWV will designate two directors for the board.
ACCO Chairman and CEO Robert Keller said in a prepared statement that the deal is "a transforming event for ACCO Brands."
The deal would increase ACCO's annual revenue by more than 50 percent, according to the company's release.
Barclays Capital is financial adviser to ACCO on the deal.