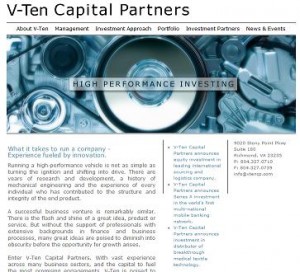 A venture capital firm founded by one of Richmond's most prominent businessmen is embroiled in yet another lawsuit over a funding deal gone sour.
V-Ten Capital Partners, founded by Richard Sharp, the former chief executive of both Circuit City and CarMax, had already been battling litigation in federal court over the ownership of potentially lucrative ground-to-air broadband technology when it was sued again last week in Richmond Circuit Court related to same issue.
V-Ten and several other parties, including an investment firm in Connecticut and German airline giant Lufthansa, were sued Nov. 14 by Wi-Sky Inflight Inc., an Atlanta company that claims it owns the rights to the technology in question. V-Ten at one point was working a deal to fund the company.
Wi-Sky alleges in its suit that V-Ten and the other defendants conspired to develop the technology on their own while pushing it out of the picture.
Making matters worse, V-Ten never actually funded the deal, and the technology has yet to be brought to market.
"It's a long and complicated story," said Darren Penn, an attorney with Harris Penn Lowry DelCampo, an Atlanta law firm representing Wi-Sky.
The legal fight boils down to who truly owns the technology, which allows high speed Internet access to be beamed from the ground to airliners in flight.
V-Ten, which Sharp founded along with other former Circuit City executives, had offered to invest in Wi-Sky and help fund the development of its technology, according to the suit.
Those discussions began in 2008, but the relationship fell apart because Wi-Sky's shareholders rejected the deal.
It was shortly thereafter, the suit alleges, that V-Ten, a man named Michael Leabman who had been contracted by Wi-Sky to build radios for the technology, and the other defendants began their alleged conspiracy.
"What we have learned through all the pending [federal] litigation is that the discussions didn't end after Wi-Sky rejected the deal," Penn said. "Leabman started having his own discussions with V-Ten and others."
A message left for Sharp was not returned by press time.
V-Ten's attorney, Brian Pumphrey of McGuireWoods, spoke on behalf of Sharp's firm.
"Wi-Sky's complaint is completely without merit," Pumphrey said. "No one conspired to injure Wi-Sky. Wi-Sky never had an interest in the technology at issue."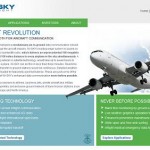 Wi-Sky alleges several counts of civil conspiracy and is seeking an injunction to stop the defendants from using anything related to the technology. It has asked the court to award damages of $10 million.
The same parties are fighting over ownership of the technology in federal court.
The federal suit was filed by Lufthansa, which at one point allegedly was in final negotiations with Wi-Sky on a contract for the technology worth $100 million.
That, too, fell through, Wi-Sky's local suit claims, in part because Leabman, V-Ten and the others allegedly worked together to kill the deal.
Because of its interest in the technology, Lufthansa filed the suit to get the court to quickly sort out the ownership issue.
"It became clear to us that all of these parties on the other side had gotten together and conspired to file all these other lawsuits and pursue these other actions in attempt to take the property from Wi-Sky," Penn said.
Wi-Sky, which is listed on a German stock exchange, has filed for bankruptcy as it sorts out the mess.
Pumphrey and McGuireWoods are representing V-Ten in the local and federal cases. They are also representing Wivest LLC, an entity affiliated with V-Ten that was allegedly created with the sole purpose of investing in Wi-Sky.
Mark Dix, an attorney with Richmond-based Bucci & Dix, is also working on behalf of Wi-Sky.
V-Ten, headquartered on Stony Point Parkway, invests in and funds startups, early-stage companies and those looking to grow. It focuses its efforts on technology, life sciences, health care, real estate and other areas.
V-Ten and the other defendants have yet to file their response to the Wi-Sky suit.
Penn said he expects the case to go to trial.
"That's the clearest way to flesh out all these issues and find out what the truth is."
Michael Schwartz is a BizSense reporter. Please send news tips to [email protected].