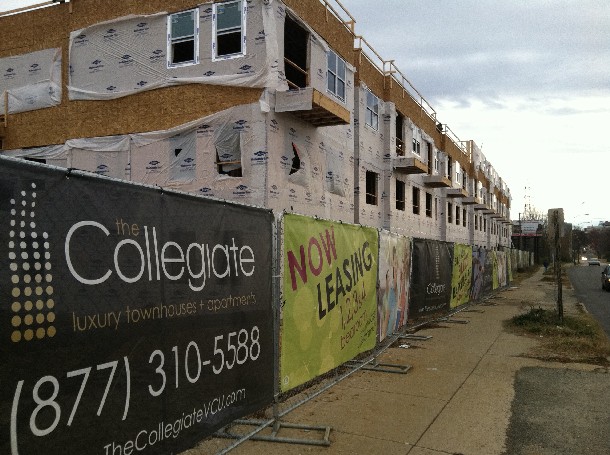 An 11-acre, $22.4 million student apartment project is quickly coming out of the ground off Chamberlayne Avenue, north of Virginia Commonwealth University.
Trinitas Ventures, an Indiana-based student housing developer, worked for a year to close the deal on the land. Work began this summer, and BizSense first broke the story in June.
The development, known as the Collegiate, will consist of 270 one-, two-, three- and four-bedroom units.
This photo doesn't do the project justice. What's pictured is just the first row of apartments. The property extends back several blocks, and about four of the structures are out of the ground so far. It's massive.
It also has interesting history. As BizSense first reported, the land was previously a trailer park and was then owned by an LLC tied to imprisoned developer Justin French. He, too, planned a student housing project for the land.
Trinitas purchased the land for $2.6 million. The proceeds of the sale went to the U.S. Attorney for restitution to French's victims.
Indiana-based construction firm Vizor-Alderson is the general contractor.
The project is expected to be completed in August 2012.