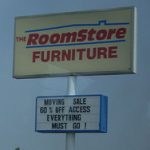 A recently bankrupt local furniture retailer wants to clean house.
On Friday, Richmond-based RoomStore asked the federal bankruptcy court for permission to close and liquidate at least 25 of its stores and possibly up to another 15 locations.
The company, which filed Dec. 12 for Chapter 11 bankruptcy protection, said the initial 25 stores are underperforming. Shuttering them would cut costs as the chain reorganizes.
And it's not wasting any time. The company is seeking to hold an auction for the stores Jan. 4 at its Glen Allen location.
RoomStore has 64 locations in eight states, including 12 in Virginia. Its only local store is on West Broad Street in Glen Allen. Its headquarters is on Patterson Avenue near Route 288.
Its court filing Friday did not elaborate as to which stores will get cut. Recently appointed chief executive Steve Giordano did not return a call by press time.
The company has already begun clearance sales at four of its locations in Hoover, Ala., Fayetteville, N.C., Tallahassee, Fla. and Baltimore.
RoomStore's bankruptcy was filed amid declining sales, unsustainable levels of debt and turnover in its executive ranks.
It lost $3.42 million in its most recent quarter and has lost $7.87 million in 2011, according to its SEC filings.
It listed in its bankruptcy filing $55.9 million in assets and $52.4 million in debt as of Oct. 31. It also stated that it has between 1,000 and 5,000 creditors.
RoomStore's sales for the quarter were $53 million, down $20 million compared with a year ago. That figure does not include sales at Mattress Discounters, a chain of which RoomStore owns a 65 percent stake.
The company fired its chief executive of 10 years, Curtis Kimbrell, in mid-November. Two weeks later, the chairman Robert Shaffner resigned. Giordano was hired as the new chief executive just a few weeks ago.
The company is also no stranger to bankruptcy.
Founded in Texas in 1992, it became part of Heilig-Meyers, the former Richmond-based furniture giant that went bankrupt in 2000.
RoomStore was spun off as part of Heilig's bankruptcy plan and was taken public in 2010 as part of an unusual plan to give most of the shares to Heilig-Meyers creditors.
RoomStore is continuing to operate during its Chapter 11 restructuring with the help of a $14 million loan from Wells Fargo.
It has yet to file detailed lists of its assets and creditors.
Michael Schwartz is a BizSense reporter. Please send news tips to [email protected]