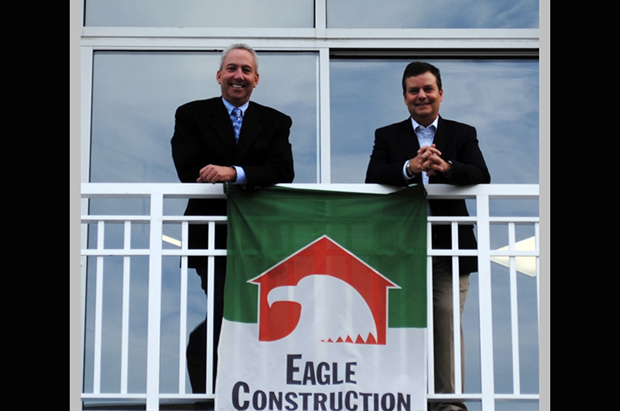 For more than four years, local developer TerraForge Communities has been building at FoxCreek, its upscale subdivision in Chesterfield.
In 2011, the company needed more money to finish 90 lots at the project. But banks either can't or won't touch speculative projects anymore.
So TerraForge President David Cloak did what more and more cash-strapped local developers and builders are doing these days: He called Bryan Kornblau and Bud Ohly at the Eagle Companies.
Eagle has become almost like a bank — or perhaps something newer and more nimble than a bank. It's a web of companies hungry for distressed property and fueled by a $32 million private equity fund with millions more flowing into a second fund. A web of companies with the know-how to find worthwhile projects and finish construction. And the marketing acumen to get the properties sold.
That combination just might help Eagle reach its goal of becoming the biggest builder in town.
Eagle is now building houses at about 25 developments across Central Virginia, about 80 percent of which are or were considered distressed. The calls for more deals just keep coming.
To understand how Eagle achieved this enviable position, you need to go back to 2006, when seemingly every homebuilder in the region had the Midas touch.
Eagle was flush with land, with houses going like hotcakes and money flowing in. Its leaders hadn't seen anything like it in the company's 22 years.
So how did they celebrate the good times? They laid off 30 workers that June.
"Nobody could understand why," Eagle President Bud Ohly said of his employees' reaction to the cuts. "Business at the time seemed to have no end."
Eagle had grossed more than $100 million in revenue the year before, had almost 2,000 lots under its control and was on pace to sell more than 300 houses in 2006.
Nevertheless, Eagle eventually chopped itself down from about 140 employees to 38.
Those layoffs were just the first step in a series of moves that would transform Eagle into a deep-pocketed mini-empire hungry for risky real estate at rock-bottom prices.
Bryan Kornblau, who founded Eagle in 1984, made another move in 2006 that with five years of hindsight looks like one of the greatest rolls of the dice of all time.
"I felt like something was wrong," said Kornblau of the industry in 2006. "I would make more money selling a lot than I could building a house on it."
Eagle decided to sell all but about 500 or so of its lots and made what Kornblau calls a "really nice profit."
That cash, along with having recapitalized the company in 2005 to the tune of $12 million from its insiders, allowed Eagle to secure a $100 million line of credit.
With Eagle thinned out and a protective layer of cash in hand, Kornblau and Ohly began to set about creating a web of companies that combine the blue collar know-how of a hammer-in-hand builder with a touch of slick high finance.
Call it luck. Call it timing. Call it genius. But Kornblau's hunch came true, and those combined moves allowed Eagle not only to survive the recession and housing crisis that would hit a short time later but also to be bullish while the market was (and perhaps still is) bottoming out.
"What we saw coming were dark storm clouds. We said, 'If we're right, we need to be prepared,'" Kornblau said. "That act, in combination with the recapitalization and the procurement of a multi-year credit facility, allowed us to weather the storm we're in."