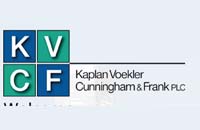 Letterhead be damned: A local law firm is now on its third name in less than a year.
After just six months, Kaplan & Frank is now known as Kaplan Voekler Cunningham & Frank. Up until May of last year the firm was known as Gregory Kaplan.
The latest incarnation came about Tuesday after two attorneys jumped ship from a cross-river rival.
Tom Voekler and Chip Cunningham left Hirschler Fleischer and became equity partners at Kaplan & Frank, garnering their names on the masthead.
"It's yet another change," said Rob Kaplan, the firm's co-founder.
The firm has been a landing pad for lawyers jumping from bigger local firms. And it seems to have a particular attraction for Hirschler Fleischer attorneys.
Including the two new additions, Kaplan's 22 total attorneys include six from Hirschler.
And Laura Osborne also recently left Hirschler for Kaplan Voekler's. She was the director of administration at Hirschler, and she will be the executive director at Kaplan.
The firm was founded in 2005 by attorneys that had practiced and been trained at Richmond's biggest law firms including Hirschler, LeClairRyan and McGuireWoods.
"This is a big firm pedigree in a more nimble package," Kaplan said.
Cunningham and Voekler beef up the firm's corporate and securities practice. The two focus on real estate.
The two sides began seriously discussing a move from Hirschler toward the end of last year, Kaplan said.
"Over the past few years, we've been collaborators and competitors," said Kaplan. "So now we're bringing two significant practices together to really take the firm to another level."
Kaplan said managing so many name changes in such a short time is a challenge.
"Yes, you have to stay on top of it," he said. "But we're not Hunton & Williams. I don't know if we have created a brand presence on par with Hunton or McGuireWoods."