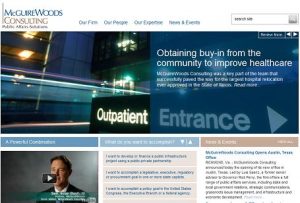 McGuireWoods Consulting, the locally-based lobbying arm of legal giant McGuireWoods, has opened a new office in Austin, its first in Texas.
The firm said the expansion was prompted by a growth in clients that have operations or interest in Texas. McGuireWoods already had law offices in Austin and Houston.
Its consulting subsidiary, which provides lobbying and government affairs services for clients, was founded in 1998. In addition to the new office in Austin and its base in Richmond, it has locations in Washington, D.C., McLean, Charlottesville, Chicago, Springfield, Ill., Atlanta, Raleigh, Columbia, S.C, and of all places Bucharest, Romania.
Leading the new office in Austin is Luis Saenz, a former senior advisor to Texas Governor and presidential hopeful Rick Perry.
Saenz, who most recently ran his own public affairs firm, is also the former assistant secretary of state in Texas. He began his career in Washington, D.C. politics, serving on the staffs of several U.S.senators.
McGuireWoods Consulting said it also recently expanded its Atlanta operations with the addition of three new employees.