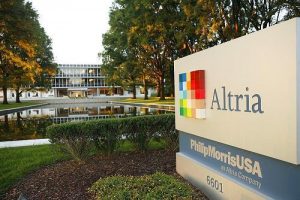 It pays to sit on top of the tobacco heap.
As the highest paid public executive in Richmond, outgoing Altria Chairman and CEO Michael Szymanczyk won't leave empty-handed when he retires in May after 23 years with the company.
Altria released the details of the compensation package Szymanczyk will receive on his way out.
Altria disclosed in SEC filings that Szymanczyk, 63, is to act as a consultant to the company upon his retirement. He'll serve in that capacity until January 2014.
Although he won't be paid in cash for that stint, Szymanczyk will have access to 450,000 shares of restricted stock upon completion of his duties. Those shares, based on Altria's current market price, would be worth about $12 million, but that figure is likely to change.
Altria will also provide Szymanczyk use of the corporate jet for business purposes, along with an office and an assistant.
Some cash will also change hands.
As part of his retirement agreement, Szymanczyk will receive a lump sum cash payment equal to 210,000 shares of the company's stock.
He'll also eventually receive $3.25 million in cash from the company's annual incentive program. He's eligible for a payout from the company's long-term incentive plan, which for Szymanczyk was worth $10.7 million, as of the company's most recent proxy statement.
Then there's the pension plan. Altria previously capped the value of Szymanczyk's pension benefit at no more than $30 million. The accrued value of his pension otherwise would have exceeded that amount, the company said in its filings.
Szymanczyk has been Altria's chairman and chief executive for four years. Prior to that, he was head of Philip Morris USA. He was at the helm when the company spun off Kraft and Philip Morris International, a major period of transition for the company.
He graduated from Indiana University with a degree in finance and played on the basketball team.
For his duties over the years, Szymanczyk found himself at the top of the list of highest paid chief executives of publicly traded Richmond companies.
He received $24 million in total compensation in 2010, out earning his closest local peer, Dominion chief executive Thomas Farrell, by more than $7 million.
He was ranked 233rd on Forbes' Executive Pay list in 2011.
Altria brought home plenty of profit during his tenure – more than $6 billion combined in just the last two years. Its 2011 figures haven't yet been released.
Taking over for Szymanczyk will be Martin Barrington, Altria's vice chairman.
Barrington, 58, has been with the company since 1993. He has a B.A. from the College of Saint Rose and a law degree from Albany Law School.
His base salary for 2012 is $850,000, according to the company's filings. A compensation package for his forthcoming role as chairman and chief executive will be approved at a later date, the company said.