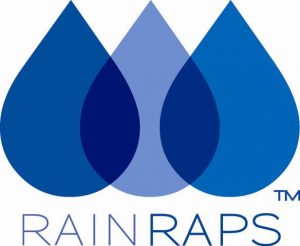 Two Richmonders last month launched an apparel start-up for the woman who prefers not to resemble Paddington Bear or the Gorton's fisherman when she steps into a thunderstorm.
Tired of having to don bulky raincoats, stay-at-home-moms Stacy Struminger and Rachel Teyssier have created Rainraps, a line of waterproof jackets for the fashion-conscious woman.
Rainraps sell for $48 and come in one size and four colors. The gear is similar to a wrap that drapes over your body and hangs open in the front but does not have a hood like a raincoat.
Since launching the website two weeks ago, the company has sold 50 Rainraps.
Struminger, a New Yorker who moved to Richmond about 10 years ago, came up with the idea last spring.
"It had been raining a whole week and it was so frustrating going in and out of the car and I find umbrellas to be so cumbersome," Struminger said. "They would get the entire car or myself wet."
Struminger said that's when thoughts started pouring in for a garment that would shield her from the rain but wouldn't be a hassle to carry around.
"I thought if I wanted one, why wouldn't everyone else want one," she said.
"There are ponchos out there, but nothing fashionable," Struminger said. "We looked everywhere and nothing is out there, which is why we decided to make it."
In June, the business partners struck a deal with a manufacturer in China to produce the wraps. They purchased about 1,000 of each piece to get the business going.
Teyssier and Struminger and their husbands are financing the business.
Niche apparel startups have been popping up all over Richmond lately.
Hopper Apparel, a line of gym wear for CrossFit members, launched this summer, and the Zipper Tie, a pre-tied tie, debuted in December.
The most challenging aspect of their new venture, Struminger said, was figuring out the type of product they wanted and getting it shipped.
"Getting the right material took the longest — and perfecting the sample," she said. "I have a whole closet full of prototypes of what it has evolved from."
Before getting her feet wet as an entrepreneur, Struminger, 43, worked for 10 years as a buyer for Burlington Coat Factory. Teyssier, 44, worked as an event planner for the Alzheimer's Association in Chicago before moving to Richmond for her husband's job.
For now all sales are being done through the Rainraps website. As the business grows, they'll look to expand their product line to retail outlets, department stores and magazine catalogs.