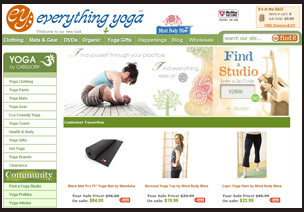 A Shockoe Slip private equity firm is stretching further into the growing yoga industry.
Boxwood Capital Partners this week made its third purchase in less than two years of an online yoga retailer and has plans to launch its own brand of yoga products this spring.
With its purchase of Anaheim, Calif.-based Red Rocks Products, Boxwood brings into its fold several new websites that sell yoga and swimming gear as well as footwear.
The price of the acquisition was not disclosed.
The sites in Red Rocks' portfolio include EverythingYoga.com, BestInsoles.com and BestSwimming.com, among others.
Boxwood managing director Patrick Galleher said he couldn't discuss any terms of the recent deal because of a confidentiality agreement.
"It's a good size deal," he said.
The acquisition adds to the ever-expanding cache of Shockoe Commerce Group, Boxwood's portfolio company that holds its online businesses. It owns yoga, snack, coffee and office supply websites that sell to both businesses and consumers.
SCG's growth began in 2008, when it acquired Coffee Wholesale USA and its related website. It then launched SnackWarehouse.com, a site that sells gluten-free and organic snacks in 2009. Then came OfficeSaver.com in July 2010 to compete with the likes of Staples and OfficeMax.
SCG and Boxwood began their expansion into the yoga business in November 2010 with the acquisition of Hartford, Conn.-based YogaDirect.com for an undisclosed sum. A month later, it purchased Yoga Accessories.
And now Red Rocks.
"We think that's a growing market," Galleher said of the firm's concentration on the yoga industry.
Its customers include gyms across the country, such as YMCAs and Gold's Gym. Galleher said the company sells a lot of yoga mats to middle schools and high schools. New York City, for example, is a big customer, he said.
Galleher said taking the gamble on yoga has paid off.
Galleher said sales in the yoga businesses have grown 15 to 20 percent annually.
"We feel very strongly that the yoga market is going to grow for the next 10 to 20 years as women age and look for something with less stress on the joints but want to stay active and stay fit," he said.
Galleher said Boxwood had been in talks with Red Rock for about six months.
The company will continue to operate Red Rock's office and warehouse in Anaheim, and nine employees there will stay on.
Boxwood has about 40 employees, including eight in Richmond, and it's looking to hire a handful of new local employees, Galleher said.
And through SCG, the firm plans to launch its own brand of yoga products this spring, Galleher said. It will be called Dragonfly Fitness.