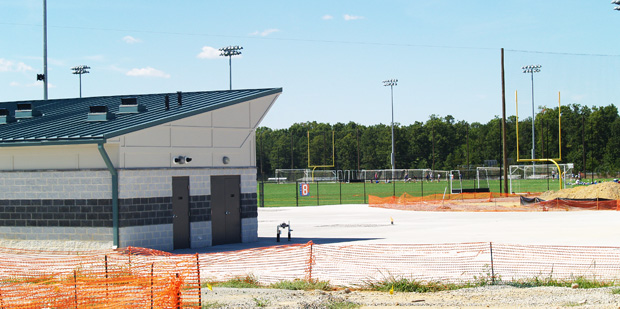 The state of Virginia is suing SportsQuest, a Chesterfield recreation complex, requesting that it refund at least 700 memberships it sold and allegedly improperly marketed for a yet to be built spa/fitness facility.
In the suit filed Monday, state Attorney General Ken Cuccinelli claims that SportsQuest ran afoul of regulations that govern the sale of health spa memberships. The suit says SportsQuest, which has struggled recently to pay its bills, allegedly violated the rules by not mentioning an opening date for a planned fitness facility on Genito Road in its initial marketing materials and then by failing to open by the date quoted in updated marketing materials.
"Virginia Code prohibits a health spa from selling a health spa contract on a prepayment basis without disclosing in the contract the date on which the health club should open," the suit says. "The opening date shall not be later than twelve months from the signing of the contract."
The regulations are governed by the Virginia Department of Agriculture and Consumer Services and the Office of Consumer Affairs, which started investigating SportsQuest in December 2010, according to the lawsuit.
The suit alleges that SportsQuest customers pre-paid $800 to $2,600 each for 36-month contracts to the club that included memberships to the proposed Genito Road gym. Month-to-month contracts could be bought for up to $250, according to the suit.
As of Wednesday, SportsQuest was still promoting and selling memberships with plans that charge a $75 enrollment fee and a monthly fee of about $30. A sales representative told Richmond BizSense on the phone that the membership allows a patron to use a temporary facility on Oak Lake Boulevard that has been in use for about a year and that SportsQuest won't move to the planned Genito facility for at least a year and a half.
It's unclear exactly what SportsQuest used the membership funds for, but the project has been short of cash since at least last summer.
BizSense reported in August that the business was having trouble paying employees and contractors.
At the end of January, an excavation company filed a lien for $500,000 for work it did in 2010 and for which it wasn't paid. That was the third lien filed by contractors who helped build the site.
SportsQuest is also one of Chesterfield County's largest tax delinquents, owing $75,000. SportsQuest relied on more than $4 million from the county to get the project moving.
In the attorney general's lawsuit, the state claims it previously sent a warning to SportsQuest but that "SportsQuest has failed to demonstrate that no violations occurred."
The lawsuit claims that SportsQuest eventually agreed to comply with the regulations "but as of the time of this filing has failed to live up to the prepayment contract refund and reporting obligations of the agreement."
The VOCA said it does not comment on pending investigations.
BizSense was unable to reach SportsQuest founder Steve Burton.