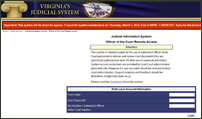 Attention, Richmond lawyers: Don't try to pull any funny business with Bevill Dean's new online case system.
The Richmond Circuit Court, of which Dean is clerk, launched an online access system last year that allows users to view court case files on the Internet.
More than 200 lawyers have paid to set up accounts, with at least a couple of new sign-ups every day, Dean said.
The system is restricted to lawyers and their associates and costs $100 for the first attorney at a law firm and $50 per attorney thereafter.
The system would seem to be ripe for abuse by users who share their login credentials. But Dean's system has a two-part barrier to thwart any pilferers.
The first is an honor code. The second is technology.
Lawyers registered to use the system "are considered officers of the court," Dean said. "If we find out they are sharing passwords, they will be yanked. And we do have a system for checking.
When the court suspects a firm is doubling up on accounts, it sends this stern warning:
"This letter serves as a reminder that pursuant to the Terms of the Subscriber Agreement for Remote Access to Richmond City's Circuit Court Case Imaging System, you may NOT share passwords or login credentials with anyone for any reason. Access is strictly one username login for one individual Subscriber.
Failure to comply with the terms of the Agreement may result in termination of the Agreement and the Subscription."
There is a reason for Dean's diligence.
The Richmond Circuit Court paid for its system, and Dean wants to make sure there's a return on the investment.
Dean needed 75 to 100 paid users to break even.
"So we're way past the point of breaking even," he said.
The new system is part of a statewide program that aims to have all files from every circuit court across the state available online.
Localities are slowly getting on board.
Locally, Hanover County Circuit Court is one of the first smaller jurisdictions to go digital. Norfolk Circuit Court was the pilot locality for the system.
Each locality's circuit court clerk sets the price.
Dean set his up at $100 a pop and $50 after that to keep the price fair.
"I'm really cheap," compared with some of his other fellow clerks, he said.
For now, the system is open only to attorneys, paralegals and some law enforcement officials.
If other groups wanted access — say, reporters or the general public — they'd have to push the General Assembly to change the rules.
"I'm not sure that will be something the clerks will jump on to open up," Dean said.