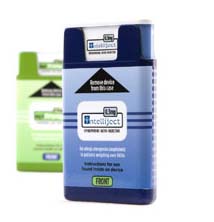 A Shockoe Slip maker of pharmaceutical devices can finally see the light at the end of the tunnel.
Intelliject last month settled a long-running patent infringement lawsuit filed against it by one of the biggest names in the drug industry.
Although terms of the settlement are confidential, the deal should finally allow Intelliject to get its lead product to market after seven years in business.
"The main thing it says [is] that we've agreed to settle and the case has been dismissed," Intelliject chief executive Spencer Williamson said last week.
The suit was filed last year by Meridian, a subsidiary of Pfizer. The company claimed that Intelliject's flagship epinephrine injection product, the e-cue, infringed on Meridian's popular EpiPen.
The suit came just as the e-cue had received tentative final approval from the FDA.
The only detail of the settlement that either side will discuss is that Intelliject and capital backer Sanofi-Aventis can launch e-cue no earlier than Nov. 15.
The settlement was reached the night before a trial was to begin.
"I can say that Intelliject is very pleased with the settlement agreement," Williamson said. "It's a big one to get done."
The e-cue is a credit card-size device that lets patients inject themselves with an epinephrine drug. Epinephrine is widely used to combat severe allergic reactions to things like bee stings and peanut allergies.
And although Intelliject is a small Richmond company, its battle against Pfizer and Meridian was hardly a David vs. Goliath affair.
Intelliject has the backing of Sanofi, also a giant drug maker. Sanofi signed a deal with Intelliject in 2009, paying the company $25 million up front with an additional $205 million waiting in the wings.
The money gave Intelliject the shot in the arm it needed to fully develop and test the e-cue. In exchange, Sanofi gets the licensing rights to market, manufacture and sell the product, which will compete in a multibillion-dollar industry.
Having Sanofi on its side also allowed Intelliject to survive what was surely a costly federal lawsuit.
"I'd say we never felt that intimidated by the suit," Williamson said. "Obviously, litigations are expensive. But we have been very blessed to be strong from a capital position. Unfortunately, in the pharmaceutical business, this is part of doing business."
Intelliject, founded in Richmond in 2004 by brothers Evan and Eric Edwards, will now begin to focus on its future products.
Williamson said the company, which is headquartered in the Turning Basin Building and employs about 20 workers, has four products in its development pipeline.
He wouldn't give any details about the new products but said they will involve drug device and drug combinations.
The e-cue now awaits an expected official approval from the FDA.