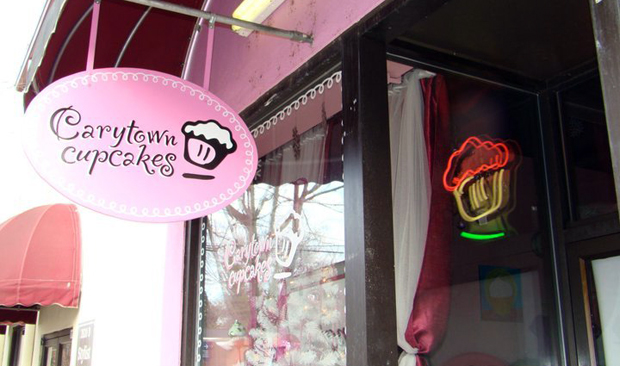 Dawn Schick will only have to schlep her cupcakes to her Carytown storefront for a few more months.
Schick and her husband, Albert, own Carytown Cupcakes, and they are moving the business in May to a larger space with more retail frontage on Cary Street.
For the past two and a half years, the shop has served up such flavors as red velvet, hummingbird (pineapple and banana), and chocolate out of a 700-square-foot space on West Cary Street. But one thing was missing: a kitchen.
The Schicks have been baking the cupcakes at the Grace Manor Inn, a bed and breakfast they own at the corner of Grace and Meadow streets. They also live there.
"Since we started, we've baked the cupcakes at my B&B and transported them a mile and a half down to the shop every day," Schick said. "The new space will take away a lot of work and hauling of cupcakes."
Carytown Cupcakes will take over the embroidery shop EmbroidMe at 3111 W. Cary St.
The shop seats about eight now, but will expand to 12 and eventually 20 at the new location.
For three months, Schick scoured the area for a bigger place to house the cupcakes and to draw more Carytown pedestrians.
"We want to be on the main drag," she said.
She signed the lease on the 2,400-square-foot space this month. Bandazian & Holden handled the lease negotiations.
The Schicks are investing about $55,000 to renovate the digs and bring in some new equipment.
Carytown Cupcakes' current shop is squished behind Cartwheels and Coffee and faces Colonial Avenue.
"Every month this year has been better then the previous year," Schick said. "Some days we can't get anything done other than answer the phone and take orders."
The shop sells five regular flavors and introduces five new cupcakes each week with a specific theme such as wine-flavored cupcakes or cookie-flavored ones.
"Men like the Guinness cupcake," Schick said.
And when the new shop opens in the spring, Schick said Carytown Cupcakes will expand its hours to cater to the breakfast crowd as well as the after dinner crowd.
"There's a lot of people that take cupcakes into work or take them to their child's daycare and those that want to pick up early for a special arrangement," she said.
The shop will start serving up cupcakes between 7 a.m. and 8 a.m.
Read more: