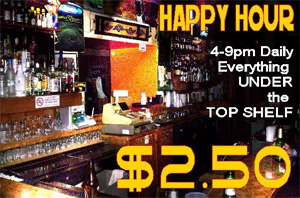 It looks as though bar patrons will still need the secret password to find out about happy hours at their favorite watering holes across town.
A bill introduced this year to the Virginia Assembly to allow bars to advertise their happy hour specials online was scrapped late last month.
Republican Del. David Albo, who introduced the measure, decided to put the cork back in the bill after feeling some pressure, according to a story in the Virginia Gazette.
"A bunch of people who are against underage drinking were concerned about the bill," Albo told the publication. "I did not really understand their opposition, because even if an underage person saw the website, they still could not go to the restaurant and purchase alcohol."
BizSense first reported in February that Democratic Del. David Englin, who represents the Alexandria and Arlington district, introduced a similar bill into the assembly. Englin's was combined with Albo's on Feb. 7.
The bill was presented Jan. 10 and passed through the House a month later.
A week later, Albo withdrew the bill at the request of the Senate Rehabilitation and Social Services Committee.