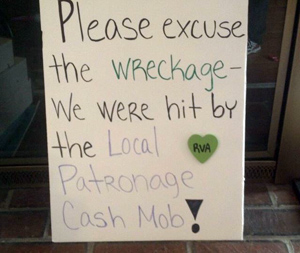 The cash mob movement is quickly making its way across the country.
BizSense first caught wind of the new trend a few weeks ago when Rainey Niklawski launched the first Richmond mob.
Through Facebook and Twitter, groups organize a "mobbing" on a small business around town and on a specific day head that business and spend a little cash. The business then gets to pick the next place to get mobbed.
About 140 Mobs have popped up all over the country according to a recent Bloomberg article.  The first cash mob launched in August in Buffalo, N.Y. The mobster movement has since spread to over 15 states including South Carolina, Ohio and Michigan.
A blogging site has even come out called "Mob Rules" of what to do during a mobbing and areas across the country where cash mobs are forming.