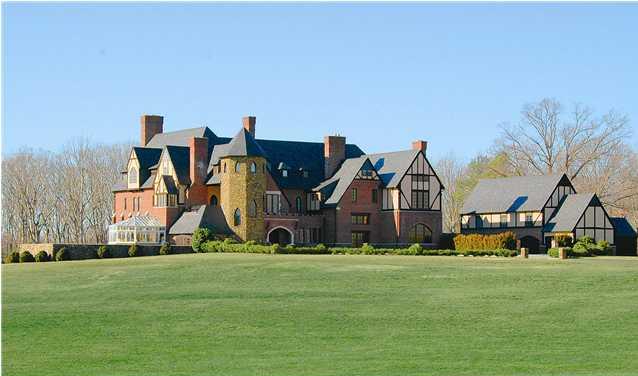 Living like a king is getting cheaper.
The asking price on the gargantuan home known around town as the "the castle in Goochland" has been cut almost in half.
Dover Hall, the 33,000-square-foot English Tudor-style estate in Manakin-Sabot, is for sale for $5.95 million, down from $11.5 million in 2007.
The house, which sits at 1500 Manakin Rd., has 10 bedrooms, 25 bathrooms, 11 fireplaces, a 2,400-square-foot ballroom and a two-story library. If the prospect of keeping that many rooms tidy is what's holding you back, fear not: The property's staff are willing to continue working for a new owner, according to promotional materials.
Dennis A. Pryor and his wife, Cindy, had the property built on 55 acres in Goochland County near Kinloch Golf Club and Hermitage Country Club. Construction began in 1996 and took more than three years.
Pryor made his fortune in the medical management industry and commercial real estate.
Dover Hall went on the market in 2007 for $11.5 million. By early 2011, it was down to $8.5 million or $9.95 million furnished.
The Pryors told Virginia Living Magazine last year that they were looking to downsize and planned to build a more modest 10,000-square-foot stone home.
Today Dover Hall is listed with Frank Hardy Realtors for $5.95 million, on par with the most current county assessment. Hardy said he was not authorized by his clients to comment on the listing.
The lavish property has been featured in numerous magazine stories that describe the home's decor.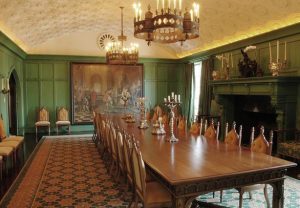 At its current price buyers can choose to buy the home with furnishings. As described in magazines, the castle's interior includes a billiards room with cowhide wall coverings and about 30 mounted game trophies.
Both Pryors are graduates of the University of Richmond, and the home is said to be inspired by the UR architecture as well as the Biltmore estate, the former home of Cornelius Vanderbilt outside Asheville, N.C.