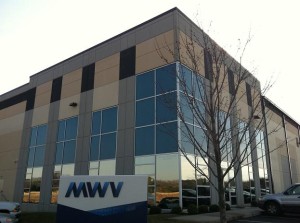 Packaging giant MeadWestvaco's roots are sinking deeper into Richmond.
MeadWestvaco on Tuesday unveiled its new Center for Packaging Innovation pilot plant, a 48,000-square-foot, $13 million facility in Eastern Henrico.
The Richmond-based company moved its headquarters here from Connecticut in 2006 and opened a new office building downtown in 2009.
The CPI pilot plant, as the new lab is known, is a research and development facility that uses complicated machines to tinker with paper and plastics. Experiments include making compostable paper coffee cups and using corn-based oils to coat paper products in a more eco-friendly way.
The research also results in everyday consumer products such as the cardboard that holds 12-packs of Coke, plastic spray bottles for brands like Febreeze and the foil-backed plastic packaging that cold medicine comes in.
The CPI was located in Raleigh until MWV decided in 2010 to move it to Richmond.
More than 100 employees moved three hours north to Richmond. MWV leased the space at the Airport Distribution Center off South Laburnum Avenue and has since been building it out and tuning up the machines.
Seven workers man the lab, and many other scientists and engineers commute from MWV's downtown headquarters as needed.
"Most of us are technical guys," said Alex Cedeno, vice president of global innovation at MWV, speaking Tuesday at the lab to a small crowd that included Virginia Sen. Donald McEachin (D-Henrico).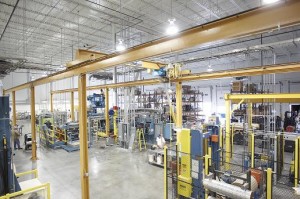 The new lab allows MWV to experiment with products in a cheaper and faster way than at its full-fledged manufacturing plants.
The new plant has a papermaking lab that tests woodchips from different types of trees that are turned into pulp for products like cigarette packs and paper cups. There's also a plastics lab where pellets are melted down and shaped into things like spray bottles used for household cleaners or shampoos bottles.
MWV also has some top secret products in the pipeline. Those are off-limits to visitors until they're perfected — and patented.
Packaging is big business for MWV. The company spent $47 million on research and development in 2011, according to financial reports. It had $6.06 billion in sales in 2011.
The company was formed in 2001 following the merger of Westvaco Corporation and the Mead Corporation.
MWV moved its corporate headquarters from Stamford, Conn., to downtown Richmond in 2006. Its Fifth Street headquarters is nine stories and 310,000 square feet.
It now has 850 employees in Richmond and 17,000 worldwide.