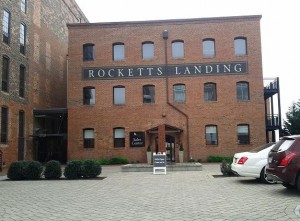 The bulldozers and cement trucks are heading back to Rocketts Landing this summer after a three-year break.
WVS Companies, developers of the large riverfront complex that straddles Henrico County and the city line, is starting construction this summer on four townhomes and an apartment building with 150 units.
WVS has built restaurants at the development, but this summer's estimated $20 million project will be the first residential construction there since 2009. To date, all the residences at Rocketts have been condos and townhouses, but WVS principal Richard Souter said the switch to apartments doesn't represent a change in business model.
Rocketts was always going to have apartments, he said.
"It's very much a function of the market," Souter said. "You see apartments being built around town, but you don't see condos. This is a big project, and we want to keep it moving."
Souter said the original zoning for Rocketts in Henrico County permits 425 condos, 425 apartments and 125 townhomes.
"We're going to do whatever the market will support at the time," he said.
Henrico construction management firm JD Lewis will likely be the general contractor. JD Lewis is also the lead contractor on the WVS/Fountainhead Properties project at Reynolds North.
Souter said that the construction would make things dusty for the current Rocketts residents but that — because the development started in the middle and is building out from the original structures — the impact should be minimal.
"To some degree, you can keep the existing neighborhood removed from the new construction," he said. "But I think that everyone here understands that additions add value to their property."
After a tough couple of years for condo sales at Rocketts, the developers say that things have picked up again. Souter said that WVS has been selling two to three condos a month this year and that about 70 percent of the residences are occupied.
Marti Cooke, who leads the Rocketts Landing sales team, said sales began to pick up in 2011.
"We began to see a spike in sales in the middle of last year, and that has continued into this year," Cooke said.
Cooke also said the group is in preliminary discussions for three new restaurants, including one inside some old beer caves on the property. The property already has three restaurants: the Boathouse, Conch Republic and M Bistro.
Another big change for Rocketts was the recent announcement that the law firm Rawls McNelis + Mitchell was leasing 6,000 square feet of office space in the building that currently houses the sales center. The firm is moving in August, and the sales office will move across the street, Cooke said.