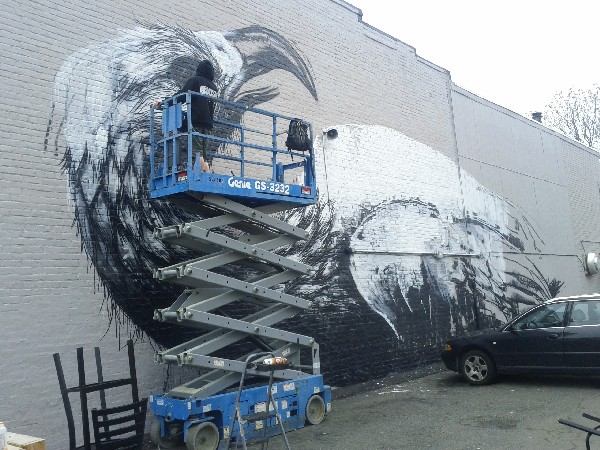 BellyTimeber Tavern in the Fan has a new look.
Belgian artist Peter Roa, a street artist known for his black-and-white animal graffiti, is the man behind this mural. Roa has murals in Moscow, London, Madrid, Los Angeles and now in Richmond. You can see more of his work here.
Kristi Totoritis, who works at BellyTimber, said she was excited about the new paint.
"I think it's amazing, I love it," she said.
Roa's piece is part of a larger mural painting project sponsored by RVA Magazine that has artists from all over the world coming to Richmond to add some flair to the city's walls. It's happening in connection with a month-long art show called the G40 Art Summit – Richmond, said Anthony Harris, publisher of RVA Magazine.
Harris said there would be between 20 and 25 murals painted by 13 artists from around the world.
"It's special," Harris said. "There are maybe 100 people in the world who are doing mural work on this scale and 13 of them are in Richmond."
From a business perspective, Harris said, the murals are designed to continue building up the arts district along Broad Street and into the neighborhoods.
"We're hoping this will start generating more foot traffic around the arts district and encourage people to open up businesses," he said.
Harris would not say how much the whole event has cost but said he'll be raising money all year to do the same thing again next year.
"There are about 80 walls that would work for murals so we want to come back again next year on an even bigger scale," he said.
You can check out some of the other completed works at 212 W. Broad St., 414 W. Broad St., 1202 N. Hull St. and 117 N. 17th St.