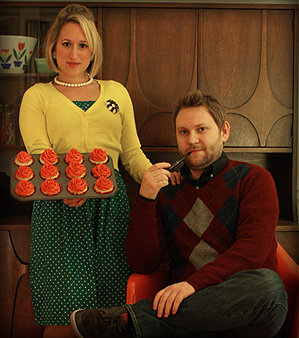 With two 1960s Sunbeam mixing bowls, a truck and a dream, two local Capital One employees set out last year to bake their way into business.
Now entering its second year, Atomic Bakery finds itself in a more crowded Richmond cupcake market. But despite the growing competition, owners Miki Guillot and her fiancé Brandon Pennington have already turned a profit and are expanding the business southward.
The business revolves around the two schlepping hundreds of cupcakes to local farmers markets every other weekend. They started last April at the Monument Market, Antiques in Manchester and the West End Market twice a month.
"Depending on the crowd, sometimes we'd sell 100 [cupcakes] and other times we'd sell 70," Guillot said.
The pair also caters private events such as weddings, corporate functions and baby showers, and this May, they'll try their luck at the popular South of the James Farmers Market, where they'll be set up among dozens of other vendors.
"Everyone told us we needed to be out there," Guillot said. "South of the James is busier — lots of people flock to that one."
Atomic Bakery sells about 16 different cupcakes for $2.50 apiece and $25 for a dozen. Flavors include "Phantom From Space," a vanilla cupcake with raspberry and cream frosting with a sugar cookie crust, and "I Was a Teenage Werewolf," a cinnamon cupcake with maple buttercream and bacon crumbles.
Guillot whips up her treats in her kitchen in Henrico County off Parham Road. She spends six hours each Friday baking, icing, and individually wrapping the cupcakes to prep for the next day's markets. Guillot also makes chocolate chip cookie dough truffles.
"We get up around 6 a.m. and start loading the truck, our signage and tents," she said. "It's a pretty late Friday night."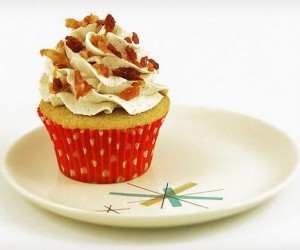 Atomic Bakery is one of many vying for attention amid the local cupcake craze.
In Richmond, businesses that thrive off selling cupcakes include Carytown Cupcakes, Babycakes (also in Carytown), Pearl's Cupcake Shoppe on Grove Avenue, Two Sweet and Frostings (both in Short Pump), Petite Sweets in Chesterfield and Poor Georgie's Bake Shoppe and Cupcakery in the West End.
One cupcake vendor couldn't handle the heat. Sweet Melissa's Cupcakes, a cart that sold the treats for a while on East Main Street downtown, closed last year.
"When we first started, there weren't nearly as many cupcakes shops," Guillot said. "In planning and getting our ducks in a row, they've sprung up, but we're positive our theme and design and how we're presenting them is different."
Guillot and Pennington, both 30, both work for Capital One full time. Guillot works as a content manager and Pennington as a contract graphic designer through Aquent.
Pennington handles all of the marketing for the business and leaves the baking to Guillot.
Guillot, a Warrenton, Va., native, moved to Richmond in 2004 after graduating from William and Mary. The couple has been together for six years, and although Guillot said she had been baking since she was a kid, it didn't flower into something more until she met Pennington.
"After I met him, I saw how great a baker his mom was, so I started doing a lot more baking," she said. "I would make stuff for him and co-workers and kept getting a lot of good feedback about my cupcakes."
Skeptical at first, but with Pennington's persuasion, Guillot started toiling in the kitchen to launch Atomic Bakery.
"I played around with recipes," she said. "I'd test and test and test recipes 10 times until I got it the way I wanted."
Being a mobile business keeps expenses low and makes turning a profit possible. The two are betting that being at the bigger farmers market this year will lure in more cupcake-lovers.
"It's definitely been profitable, and I'm hoping since we've been around a year our second year will be even more profitable," Guillot said.