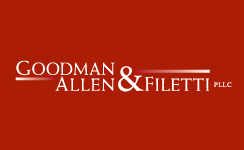 A merger this week between two local law firms was no April Fool's prank.
The two-man firm of Ramey|Michael Business Law Group on April 1 merged into the much larger Goodman Allen & Filetti.
Innsbrook-based Goodman Allen now has 37 attorneys at its four offices in Richmond, Norfolk, Virginia Beach and Charlottesville.
Adding Ramey|Michael to the fold gives Goodman Allen a presence in the practices of business formation, capital raises, acquisitions and other business law.
"We've been looking for a business section that would complement our litigation section here," said Chuck Allen, managing partner at Goodman Allen. "We often had a need for business related services that we have otherwise been referring out."
Wythe Michael Jr. and J.M. Ramey, founders of the two-year-old Midlothian firm that bears their names, began considering a merger as a way to grow beyond their two-man shop.
"We started talking early this year, and things moved pretty quickly," Michael said.
As is typical with law firm mergers, no money changed hands.
The Ramey|Michael name will cease to exist, but the firm will retain Ramey|Michael's Midlothian office on Promenade Parkway.
Michael, 44, and Ramey, 42, are both now principals at Goodman Allen.
Allen said Goodman Allen, which was founded in 1998 by lawyers from the former Wright Robinson, will continue to look for other smaller firms to absorb.
"As we find people consistent with our culture and who have practices that are complementary, we'd be very interested" in more mergers, Chuck Allen said.