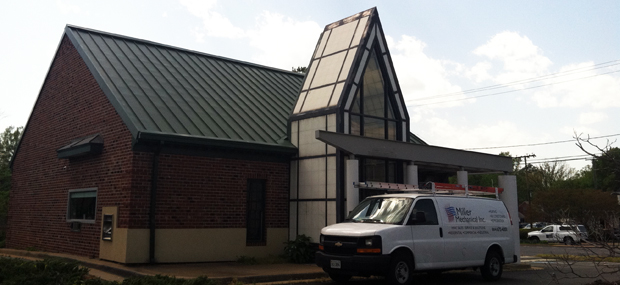 One of the state's biggest banks has finally found a place to plant its flag in Richmond.
Christiansburg-based StellarOne Bank leased a building at the corner of Libbie and Patterson avenues that will house its first branch in the Richmond market.
Once it opens later this year, the 1,700-square-foot property — a former BB&T branch — will give StellarOne its first tangible presence in Richmond. It will also add a major player to an already crowded local banking scene.
And the bank doesn't plan on stopping with one branch. StellarOne is searching for more branch locations, CFO Jeff Farrar said.
"We'd like to initially have three branches as a first wave," Farrar said.
With $2.91 billion in total assets, StellarOne is among the largest community banks in the state. It put boots on the ground locally in 2007 with a small group of commercial lenders.
It increased its presence here in July 2010, when it made Richmond the home of its wealth management division, giving it a chance to get its name out to wealthy Richmonders.
Last summer, the bank announced its intention to open branches in Richmond.
Finding the right location took some time, Farrar added.
"Patience is a virtue," he said.
During that time, however, the competition got stiffer.
Several out-of-town banks made their first moves into the Richmond market, including Northern Virginia-based Middleburg Bank, Kilmarnock-based Chesapeake Bank and McLean-based SonaBank.
Cincinnati-based Fifth Third Bank set up shop in Richmond in September with a single loan officer. Hampton Roads-based TowneBank, one of the few banks in the state larger than StellarOne, entered the market in October with an acquisition of a local mortgage company.
StellarOne will also be able to see competition from the window of its new West End branch; There's a BB&T directly next door.
The bank will look in the West End for future locations, Farrar said.
It wants to lease existing space rather than build branches from scratch. StellarOne will keep its eye out for branches of larger national banks such as Wells Fargo and the like, as those banks consolidate locations.
"There continues to be some downsizing on a number of branches from some of the larger banks," Farrar said.
The search will also go beyond traditional vacant bank branches. Farrar said the bank might look to set up branches in storefronts at certain shopping centers.
The bank is working with Susan Jones, a senior vice president at local commercial real estate firm Grubb & Ellis | Harrison & Bates.
"We're trying to be a little creative and not limiting ourselves to bank branch buildings," Jones said. "There really aren't that many [vacant branches] out there, and they don't stay on the market very long."
Jones is targeting centers near what she calls the "work, live, play" developments, such as West Broad Village.
"We're not looking to be in any old strip shopping center," she said.
The bank wants to have the branch at Libbie and Patterson avenues open in August. Farrar said the bank is trying out a new interior concept that moves away from the traditional teller line.
"We kind of refer to it as the branch of the future," Farrar said.
StellarOne's Richmond operations are headed by Pat Collins, who left SunTrust in 2007.
StellarOne controls about $23.2 million in local deposits, according to the most recent FDIC data. That's about 0.03 percent of all deposits in the Richmond region.
The bank already has about 30 local employees, mostly on its commercial lending and mortgage teams based in the West End. It has built a $200 million commercial lending portfolio in Richmond, Farrar said, concentrating on non-real estate commercial loans.
The bank has 51 branches across Virginia and about 800 employees.
It reported a $15.8 million profit in 2011, up from $9.7 million in 2010.