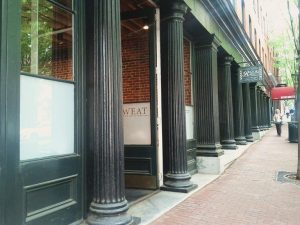 A local restaurateur is flexing his developer muscles.
Jerry Cable, owner of the Tobacco Company, is preparing to renovate four buildings next to his Shockoe Slip restaurant for retail development.  He said he's getting ready to put the construction work out to bid.
Cable bought 1211-1217 E. Cary St., previously owned by imprisoned former developer Justin French, in a bank auction late in 2010.  He also owns the two buildings on either side of his restaurant.
"We're redoing the commercial block and the two buildings on either side of the restaurant this summer," Cable said. "In all it's going to be about 35,000 square feet of renovations."
Cable said that he plans to set up a bid process for the contractor and that he has a budget of about $7 million.
Cable said he's doing the renovations to attract retail. That neighborhood has seen a slew of businesses close in the past two years, including Southern Railway Deli, These Four Walls, Dora's Brazilian Grill, and Stool Pigeons Coop and Grill.