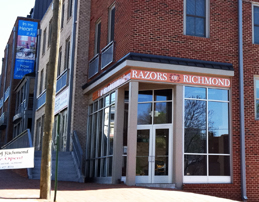 A manager of a local barbershop that got the boot from its Shockoe Slip spot has helped get a new shop off the ground in Church Hill.
Chanti Lowenberg, former manager of Razors on East Cary Street, in March helped open Razors of Richmond, a barbershop at 20th and Broad Streets.
For five years, Razors shaved, trimmed and snipped along on East Cary Street until its landlord, Tobacco Company restaurateur Jerry Cable, didn't renew its lease last year.
"When we closed, it was a big thing. It was really short notice, and we had no idea we were closing," said Lowenberg, who is the manager at the new business. "It definitely surprised a lot of people."
Lowenberg said the new location is not affiliated with the closed Razors. The shop has a new owner and a different name, and it serves both men and women.
Lowenberg said Chris "Bo" Taylor, the owner of Razors, was initially going to sell the shop to Maryland barbershop owner Michael Pierre, a friend of a Razors client.
"He was looking to sell Razors but then changed his mind," she said. "In the end, it just didn't work out. … He decided that he didn't want anything to do with Razors of Richmond, but we were okay with that."
So Lowenberg said Pierre decided to branch out on his own with the new barbershop.
"We planned to move to East Broad Street a week after we closed," she said.
Razors of Richmond leased the 1,800-square-foot space attached to apartments at 2001 East Broad St. nine months ago. It opened March 19 and has 100 clients.
The new shop cuts hair and does old-school shaves, but it also branched out into manicures, pedicures and haircuts for women.
Lowenberg, 28, managed Razors in its last six months and worked as a massage therapist at the shop for a few years before that.
And she said many of the clients that frequented Razors are coming to the new shop.
"At the end of the day, the clients don't care about the gossip, they just want a great haircut," she said.