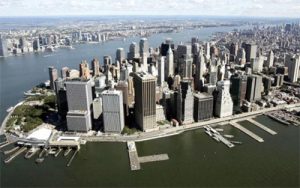 Richmond law firms are beefing up their ranks in the Big Apple: One landed a gang of lawyers from an imploding firm while its cross-Richmond rival lured eight attorneys as part of its plan to make New York its biggest territory.
Hunton & Williams has been benefited from the exodus of lawyers from Dewey & LeBoeuf.
Hunton's New York office in recent weeks added six partners to its global energy and infrastructure practice from Dewey & LeBoeuf. They are Bud Ellis, Kevin C. Felz, Michael F. Fitzpatrick Jr., Steven C. Friend, Steve R. Loeshelle and Peter K. O'Brien.
The six were among more than 80 lawyers who left Dewey in recent weeks, according to newspaper reports out of New York. Dewey is struggling under too much debt and teetering on the brink of bankruptcy.
Hunton & Williams could not be reached for comment. It has more than 800 lawyers in 19 offices around the world.
Meanwhile, LeClairRyan on Wednesday lured away eight attorneys and two staffers from New York firm Epstein Becker & Green.
The attorneys joining the LeClairRyan are Barry Cozier, Scott Drago, Cynthia Mitchell, Adrian Zuckerman, Linda Bielik, Ralph Berman, Andrea Lawrence and Lauren Margiano.
The team will work in LeClair's growing New York office, which is the epicenter of the firm's expansion plan.
Chairman Gary LeClair said he spends at least one day a week recruiting in the New York market.
"We see significant opportunity for our firm to grow everywhere," LeClair said. "But New York City is a very fertile ground for growth."
The firm has 100 lawyers in and around New York, Newark and nearby Connecticut.
"Ultimately [New York] will probably become one of our larger offices," LeClair said.
Despite recent growth elsewhere, the largest individual offices for Hunton & Williams and LeClairRyan remain in Richmond.
As for the buzz in the industry about Dewey & LeBoeuf, LeClair said his firm has not added any lawyers from the firm.
LeClair said Dewey's troubles signal changes in the business model for big law firms.
"Clearly the golden era is over for law firms," LeClair said. "Law firms are now going to have to operate under the same economic rules that apply to every other industry. And that's a good thing for the law industry and our economy."
Dewey has about 1,000 attorneys. LeClairRyan has around 350.
And although LeClairRyan has its sights set on further expansion, LeClair isn't worried about following in Dewey's footsteps.
"Their story doesn't have to do with size," he said. "It has to do with the financial rules under which you operate. Their issue is how they executed in terms of debt and their balance sheet, not in terms of the number of lawyers they have."