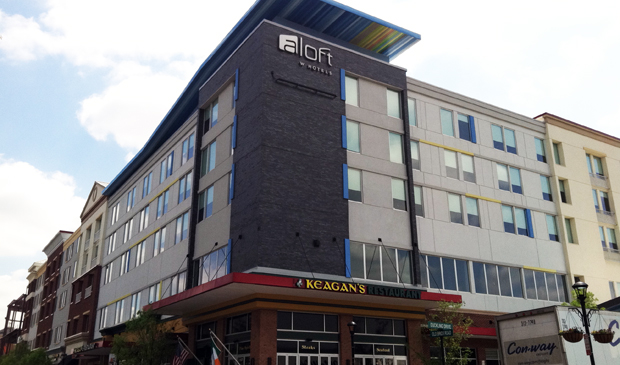 The owner of a Short Pump hotel that defaulted on its $19 million loan says there's no need for a receiver to take over the property, despite the demands of its lender.
In response to a lawsuit filed against it last month by a local bank, Short Pump Hotel Partners LLC, which owns the Aloft Hotel at West Broad Village, also argued that an emergency receiver might do more harm than good.
Midlothian-based Community Bankers Bank last month asked Henrico Circuit Court to appoint a receiver to operate the two-year-old hotel in light of it being worth less than what is owed on the property and after its owner stopped making loan payments in October. https://richmondbizsense.com/2012/04/23/aloft-hotels-future-is-up-in-the-air/
The LLC says in its 15-page response that it wants to continue to run the hotel and that having a receiver in place would "pose a risk of permanent and irreversible harm to the value of the hotel."
"There is no threat of imminent harm or damage, physical or financial, which would justify the need for a receiver," the response said.
And if the bank really wants to protect its collateral, it could simply foreclose on the property, the LLC argued.
LTD Management Co., a Chesapeake-based hotel developer and manager, is also named as a defendant in case.
LTD does not directly own the Aloft property. But the members of the LLC owner include at least one LTD principal.
Short Pump Hotel Partners says in its response that Community Bankers Bank has not attempted to take control of the property through foreclosure.
The LLC admits that it hasn't made any payment on the $19.25 million loan since October. It also admits that its does not have sufficient funds to pay off the loan and that a 2011 appraisal valued the hotel at less than the loan amount.
The two sides, according to the response, had been in negotiations to restructure and extend the loan.
Robert Chappell, an attorney with Spotts Fain representing Community Bankers Bank, said he could not comment on the suit.
The bank also declined to comment. Federal law prohibits banks from discussing the details of their borrowers.
LTD and Short Pump Hotel Partners LLC are represented by Allan Heyward Jr. of Cook, Heyward, Lee, Hopper and Feehan. Chappell could not be reached by press time. LTD said it does not comment on litigation.
A hearing is set for next month in Henrico Circuit Court.
If approved, a receiver would run the hotel while the bank weighs its options, which could include foreclosure.
Lenders typically seek a receiver when the collateral on a loan is operational and generating revenue, figuring it better to keep the business running and money coming than tying things up in foreclosure.
The bank even has a receiver in mind: hotel industry veteran Jeffrey Kolessar.