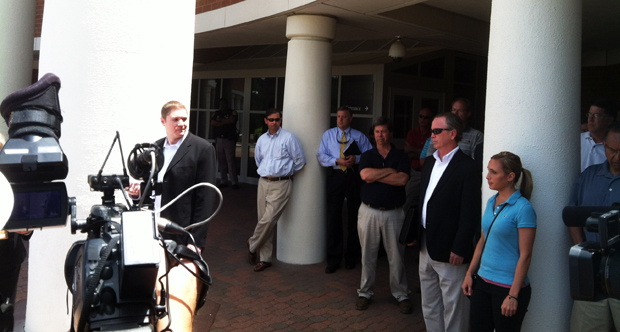 A sports complex once promoted as an Olympic-caliber training facility for world-class athletes and amateurs alike has collapsed under an avalanche of unpaid bills and lawsuits.
SportsQuest was foreclosed on Tuesday by Shaw Industries, which manufactured and financed the turf for 12 fields at the facility. Shaw, which now holds the title to the 120 acres, said in a statement that it would address the property's most urgent needs and start planning for its future. SportsQuest, the dream of Richmonder Steve Burton, had used its 115-acre campus as collateral when it signed a deal to finance turf for the fields. As first reported by BizSense, Shaw moved to foreclose after SportsQuest failed to pay its loan. Burton was not at the foreclosure auction.
"We have just taken possession of the property, and are paying the back taxes as part of recording the deed on the property," Shaw said in a statement. "We will begin evaluating other matters on the property immediately and will be available to respond as soon as possible with answers to additional questions."
Shaw declined to comment beyond the written statement.
Shaw said in the statement that it would honor Chesterfield County's lease for use of the fields. Mike Golden, Chesterfield's director of parks and recreation, said that the county will be at the fields this week and that he wants to see the project on more stable footing.
Chesterfield helped get the massive project built when it signed a $4.3 million deal with SportsQuest to lease nine of the fields for weekday use and plunked down the money upfront. Presumably, much of that sum went to Shaw in spring 2010 to cover the cost of installing the turf. Chesterfield was also supposed to eventually get a senior center and gym space. Neither of those structures was built.
Shaw was the only "bidder" at the foreclosure auction on the steps of the Chesterfield courthouse. Shaw credit bid $4.7 million, meaning it used the debt owed to it as its bid. (Banks often make credit bids in residential foreclosures.)
There are two liens in front of Shaw. Chesterfield holds the first, and landowner Mark Sowers has the second. Sowers was at the auction but declined to comment on possible negotiations.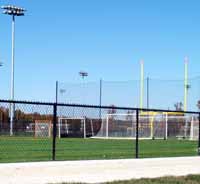 Dudley Duncan, who took over the board of directors of SportsQuest when founder Steve Burton was ousted, did not return a call seeking comment.
Contractors who worked on the project and for SportsQuest are owed more than $1 million for everything from the lights on the fields to catering and parking services. Many of those businesses have filed mechanic's liens. A spokesperson for Shaw declined to say whether the company plans to pay off those liens.
Several local sports businesses have expressed interest in managing the fields, but no deals have been struck.