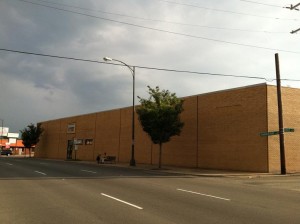 A business that owns a 60,000-square-foot warehouse on Chamberlayne Avenue has filed for bankruptcy.
Hookup LLC filed Wednesday for Chapter 11 bankruptcy protection, listing $1.8 million in assets, made up almost entirely of the value of its real estate at 1500 Chamberlayne Ave.
It also listed $1.48 million in liabilities. Hookup owes $1.2 million to First Community Bank and more than $100,000 to the Richmond Economic Development Authority.
The warehouse and storage space sits on 1.37 acres and is assessed at $1.2 million, according to city real estate records.
Hookup also owns most of the entire block bounded by Chamberlayne and High and Oak streets, according to city records.
Hookup's income on the property dropped from $114,000 in 2010 to just $7,000 so far this year, according to the bankruptcy filing.
Meanwhile, Hookup is in a court battle with Warehouse Stores, one of the tenants of the building.
According to a suit filed in federal court in conjunction with the bankruptcy filing, Hookup alleges that Warehouse Stores defaulted on its lease this year after it missed rent payments.
Warehouse occupies about 20,000 square feet of the property and had been paying $7,000 a month in rent, according to the federal suit.
Warehouse Stores has continued to occupy the space, and Hookup wants the company out. Warehouse Stores, according to the suit, sells furniture, fixtures and antiques.
The two were already tangling in Richmond Circuit Court after Warehouse filed suit against Hookup seeking at least $2 million for trespass, breach of contract, constructive eviction and other claims.
Hookup was also sued last year by the city's Economic Development Authority. The EDA was seeking an $85,000 judgment plus interest.
BizSense could not reach David Poppe, president of Warehouse Stores, or Robert Rogers, managing member of Hookup.
Hookup is represented by Sheila deLa Cruz, an attorney Hirschler Fleischer. She did not return a call by press time.

View Larger Map