Those brown Amazon packages will arrive even faster once the Seattle-based online giant opens two warehouses in the Richmond region in the fall.
A $135 million investment is coming out of the ground in Dinwiddie and Chesterfield, and officials from both counties say construction is on or ahead of schedule.
Amazon.com and Gov. Bob McDonnell announced the deal in December.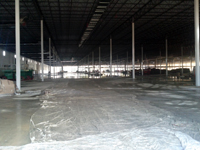 At the Chesterfield site, West Point, Va.-based Curtis Contracting is the site contractor, and the Conlan Co. of Marietta, Ga., is the general contractor. At the Dinwiddie site, Clayco of Missouri is the general contractor, and Plateau Excavation of Georgia is doing the site work.
Garrett Hart, Chesterfield's assistant economic development director, said Amazon is accepting applications for the 1,000 jobs it's bringing to the area.
Hart said that almost all the jobs pay at least $14 to $18 per hour and called that a decent living wage for the workers who will start when the facility at Meadowville Technology Park opens in November. Hart said construction is two to three weeks ahead of schedule.
"One of the main factors in the site selection for Amazon was the demographics," Hart said. "The average commute in the Richmond area is 25 minutes. Within a 25-minute drive of the site, there are almost 600,000 workers: 37,000 are unemployed, and another 20,000 are underemployed."
The 350 jobs being created by Amazon's forthcoming fulfillment center at Dinwiddie Commerce Park will have an impact of a different kind, said Tammie Collins, division chief of planning and community development in the county. Collins said the jobs would allow more of the county's 28,000 residents to work locally.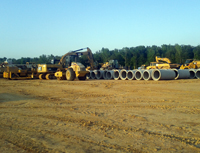 "In Dinwiddie, we have about a 68 percent out-commute rate," she said. "This gives us a chance to keep more of our residents in the area when they go to work."
Collins said that Amazon is accepting online applications but would start "aggressively marketing the jobs starting in June, July and August."
Construction is on track for its scheduled Sept. 1 completion, she said.