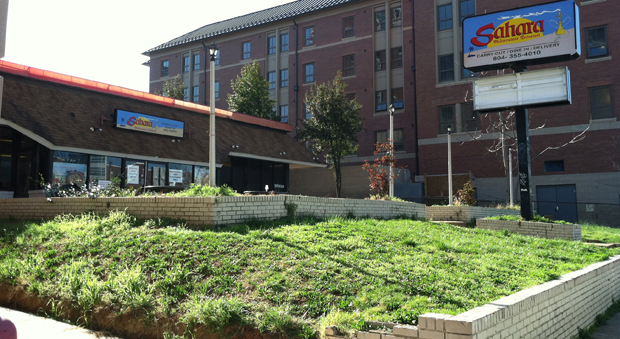 It's the old sovereign immunity defense.
Virginia Commonwealth University says a $1 million lawsuit filed against it by a restaurant near campus should be tossed out because the school is considered a state agency and therefore can't be held liable.
The argument is in response to a civil suit filed by Sahara, a restaurant and hookah bar at 813 W. Grace St., that claims a large VCU construction project has scared off customers and cost it thousands of dollars in lost business.
Invoking a plea of sovereign immunity, VCU claims that "as a state agency, [it] is absolutely immune from liability."
Sahara first filed the suit in March, claiming construction of VCU's so-called West Grace Housing Project, which consists of a dorm and parking garage, "totally engulfed and overshadowed [the restaurant's] space."
The restaurant is sandwiched between two VCU buildings that are each several stories tall. On one side is a finished 94,000-square-foot parking garage with a few ground-level restaurants on the corner of Grace and Laurel streets. On the other is a 162,000-square-foot mixed-used student housing project.
Sahara's suit, which also names construction company Whiting-Turner Contracting as a defendant, is seeking $1.35 million in total damages.
The sovereign immunity defense protects the state against certain types of liability. Citing legal precedents that say VCU and other state schools are "governmental instrumentalities for the dissemination of education," VCU argues that it is protected under that umbrella.
And because the construction project that Sahara has a beef with is designed to "assist students with housing," the school argues it is part of the university's mission and falls under the reach of sovereign immunity.
VCU spokesperson Anne Buckley said the school does not comment on pending litigation.
VCU is represented in the suit by the state attorney general's office. Nicholas Simopoulos is working the case for the AG.
The AG's office declined to comment or answer questions about the suit.
Meanwhile, contractor Whiting-Turner filed its response to the suit, also saying that Sahara's case should be tossed.
The company filed a demurrer stating that the facts laid out in the case don't support the legal arguments made by Sahara: "At best, [Sahara] sets out a case of activities in connection with a construction project that were inconvenient to the plaintiff's business."
Whiting-Turner is represented by J.H. Revere III, an attorney with Kalbaugh Pfund & Messersmith. Revere declined to comment.
VCU will make its argument for sovereign immunity in front of a judge in Richmond Circuit Court next month.
Whiting will also state its case for dismissal next month.
Sahara is represented by local attorney Darryl Parker. Parker did not return a call by press time.
Less than an acre in size, the Sahara property was most recently assessed at $835,000. The property is owned by a private party.
Sahara claims in its suit that VCU has an ulterior motive to drive the restaurant out of business and purchase the land.