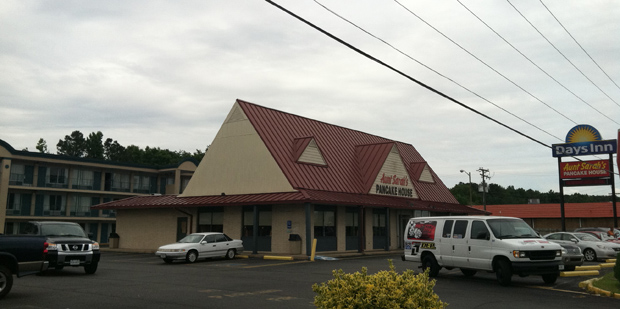 A hotel across from Richmond International Airport is headed for the auction block.
A Texas bank is foreclosing on the 2.2-acre property at 5500 Williamsburg Road in Eastern Henrico that contains a Days Inn and Aunt Sarah's Pancake House.
United Central Bank, headquartered near Dallas, will hold a foreclosure auction for the property Thursday at the entrance of the Henrico County Courthouse.
The owner of the property, Good Hope LLC, defaulted on the $1.7 million loan. Good Hope bought the property for $2.11 million in September 2008, according to Henrico County records. It is assessed at $939,000.
Good Hope is registered in Gainesville, Va. Registered agent Rajinder Singh could not be reached for comment. A message left for the owner at the motel was not returned by press time.
At auction will be the 92-room, 30,000-square-foot motel. It was built in 1974, according to county records.
Also part of the property is the 4,300-square-foot Aunt Sarah's. It's one of three locations in the area for the Richmond-based chain. It's unclear whether the restaurant is part of the foreclosure.
The motel and restaurant remain open for business.
Joe Jackson, an attorney in Northern Virginia acting as substitute trustee on foreclosure, declined to comment.
Alvin Pedescleaux of United Central Bank's special asset department said the bank does not comment on its foreclosures.