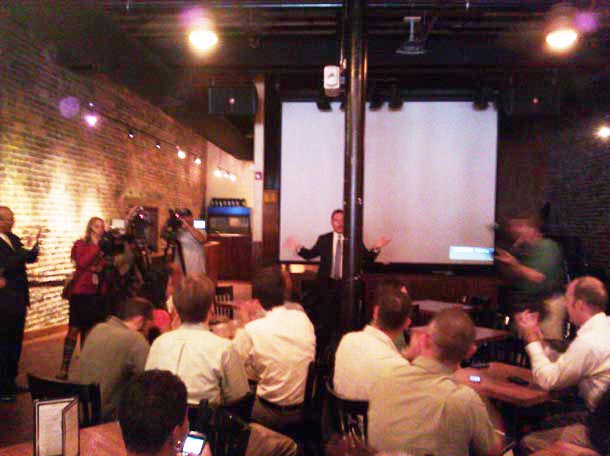 Spandex-clad cyclists will whistle through the region this fall for a new daylong bike race.
The Martin's Tour of Richmond, a 102-mile race through eight local jurisdictions, will be Oct. 6. The ride will mimic a single stage of an elite bike race like the Tour de France, said Jon Lugbill, director of the Sports Backers.
"The idea is a regular rider gets to experience what it's like to be out there on one of those tours," Lugbill said.
Similar events have been popping up across the country, Lugbill said, and the Tour of Richmond will be modeled on El Tour de Tucson, a 109-mile Arizona ride.
The ride will be Sports Backers' 11th fitness-related event of 2012. Sports Backers also hosts the Anthem Richmond Marathon, the Patrick Henry Half Marathon and the Connects Federal Credit Union Corporate 4-Miler.
Martin's will be the title sponsor. The grocer also sponsored the popular Monument 10k in March.
The Tour of Richmond will start at 7 a.m. at Richmond International Raceway and head south through Richmond before moving west to Goochland. The course will circle through Ashland and Hanover before ending back at the raceway.
The tour will also offer a 58-mile ride starting in Goochland and a 29-mile course beginning at Poor Farm Park in Hanover. Lugbill estimated that only about a third of the 1,500 riders Sports Backers hopes to attract will do the full ride.
"It's not all about the elite," Lugbill said. "It's about everybody."
For registrations received before Aug. 15, entry fees will be $95 for the full ride, $85 for the 58-mile course and $75 for the 29-mile ride. Riders ages 14 and younger will pay $30 for each course.
Wednesday's announcement comes nine months after Richmond was chosen to host the 2015 World Biking Championships, which planners hope will draw thousands of participants and spectators to the region.
The event also coincides with the launch of Bike Walk RVA, a subdivision of Sports
Backers' Active RVA initiative. Bike Walk RVA will focus on making Richmond more bicycle-friendly by adding paved trials, sidewalks and bike lanes.
Participants who donate $50 to Bike Walk RVA will save $20 on their Tour of Richmond registration fee. Lugbill also said Sports Backers will sell biking jerseys at the event to raise money for Bike Walk RVA.
Jakob Helmboldt, the city's pedestrian, bicycle and trails coordinator, said these events will spur biking in Richmond by bridging the gap between elite cyclists and amateur bikers.
"We have set ourselves on a course to become one of the country's really bike-friendly cities," Helmboldt said.