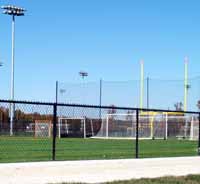 The SportsQuest name is now just a memory.
The new owner of the unfinished Chesterfield sports complex has renamed the project and hired a commercial brokerage firm to manage day-to-day operations and tie up loose ends left by the founder.
CBRE | Richmond on Thursday announced that SportsQuest is going to be called River City Sportsplex. CBRE said it was hired by the 112-acre project's new owner, turf company Shaw Sportexe. Shaw manufactured the turf on the complex's 12 fields but was never paid in full. It took control of the property in May through foreclosure.
"We are working closely with Chesterfield County and their sports tourism board to attract new events and to increase the events we have booked there," said Todd Willett, director of asset services at CBRE.
Willett said that Shaw Sportexe isn't actively looking to sell the property but is reviewing its options.
"Our main focus is to honor the events booked there," Willett said, adding that some of the unfinished work will be completed, including the parking lot, the concessions stand, bathrooms and some touch-up work on the fields.
Willett also said the project would get a new logo, new signage and a new website.
CBRE will not have employees on location and will manage River City Sportsplex from its offices in Henrico County.