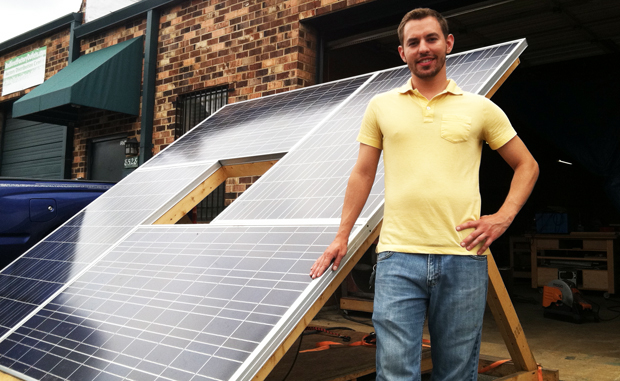 An overcast day isn't ideal for a business that runs on solar power, but the clouds don't seem to slow Bert Green down.
"It's surprising what you can do on a cloudy day," he said.
The 29-year-old entrepreneur founded SolarMill in Richmond late last year with the goal of making consumer goods using solar power and sustainable materials.
Four months into production on his first item, a bamboo cutting board, Green is looking to scale up his capacity.
It's easy to spot SolarMill amid the rows of brick workshops in an industrial park near Staples Mill and Parham roads: Just look for the solar panels parked at the front door.
Green's system consists of four panels fastened to a large, mobile wooden stand. Each panel puts out 250 watts. Wires run from the panels to a bank of eight batteries, each of which is about twice the size of a car battery.
While showing off his setup on a recent cloudy day, Green pointed out that those batteries allow him to work rain or shine. The batteries store energy from sunny days, and he can run his tools for about two days using just the batteries.
"I like the word harvest," he said. "It's like fishing for sun."
In addition to running his tools on solar power and building with bamboo, Green uses environmentally friendly processes throughout production and all the way down to the packaging.
The finished products are hand-sanded, finished with mineral oil and beeswax, and packaged with labels that contain seeds and can be planted straight into the ground. The labels, from a company called Botanical Paperworks, allow customers to grow carrots and spices.
"As far as I know, we're the only cutting board in the world that comes with a garden," said Green, a Virginia Tech grad.
Green said he started small for a reason.
"The cutting board has been an easy item to iron out all the kinks," he said.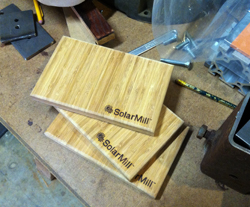 At $32 apiece, they are also a way to test people's appetite for his products.
"The odds are a lot [better] than somebody saying, 'I love what you're doing, let me buy a $500 coffee table,'" he said.
But Green has his sights set a variety of products, including coasters, picture frames and eventually coffee tables.
Those items will mostly be made from bamboo and reclaimed wood, which he gets locally from Eco Supply.
Green said he makes 50 to 100 cutting boards per month. He's sold several hundred on Amazon and in a few retail shops across the country, including one in Charlottesville.
Some of the boards are being used at C'est Le Vin, a wine bar in Shockoe Bottom.
With a more automated system that he's building himself, Green says he can quadruple his production capacity and scale up to larger products.
And with that capacity, he knows he'll need to beef up his efforts to land his products in retail stores.
"I don't want to just be an online retailer," Green said. "We are actively looking for retailers in the Richmond area that are interested in carrying our product."
The son of a shop teacher, Green grew up around a workbench in Dinwiddie County and studied industrial design at Virginia Tech. Most recently, he built custom cabinetry until he launched SolarMill.
"I've always been in the shop tinkering, pretty much my whole life," he said.
Green has his hands on all aspects of the business, from designing the machinery and logos to processing the sales.
"I feel like I clocked in several months ago and haven't clocked out since," he said. "But I couldn't just sit behind a desk."
Green declined to say how much he's spent to get the business up and running but said some of the money came from family members. He has not sought funds from outside investors.
At $32 each, he's not exactly making a killing on the cutting boards.
"It's enough to grow the business," he said. "I've been cutting back personally and putting whatever I have personally into the business. I eat a lot of ramen."