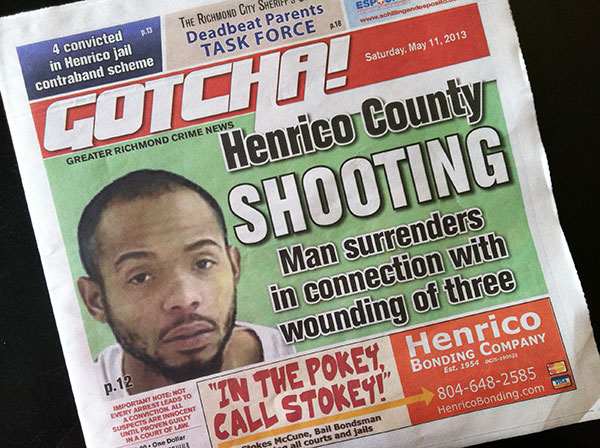 Gotcha! is coming to a front porch near you.
Two years after launching in Richmond, the weekly tabloid — a sister publication of the Times-Dispatch that features mug shots from local arrests with snarky headlines ? is now available for delivery to customers who also subscribe to the Times-Dispatch.
Gotcha's circulation has hit 10,000, almost double since its launch in February 2010, said Rick Thornton, spokesman for Richmond Media Group.
"It's been steady, gradual growth since the product was launched," Thornton said. "This product is succeeding, and there is an audience for it."
Its revenue has also grown, Thornton said. The paper brings in money from its $1 cover price and from advertisers (mostly lawyers and bail bondsmen).
Gotcha! is sold at hundreds of convenience stores in and around Richmond, including 7-Eleven, Uppy's and the like.
Gotcha!, along with the Times-Dispatch, until this week was owned by Richmond-based Media General. But thanks to a colossal deal that closed Monday, Warren Buffett's Berkshire Hathaway now owns almost all of Media General's print products. Gotcha! and its siblings are now part of Berkshire's World Media Enterprises subsidiary.
"It's a simple model in terms of charging a dollar for it in convenience stores," Thornton said. "The next step was to continue the growth of the product. We thought, 'Why not offer it as a home delivery option for subscribers?'"
Richmond Media Group doesn't yet have any solid numbers on Gotcha! subscriptions, but there have been some takers, Thornton said.
Gotcha! is also distributed in Charlottesville, Waynesboro, Lynchburg, Roanoke and Danville.
Gotcha! and similar publications across the country are not without critics. When BizSense covered the launch in 2010, Jeff South, a journalism professor at Virginia Commonwealth University, worried that photos of people who had been arrested would imply they were criminals.
But Thornton said there have only been a few complaints.
"We have not had any significant pushback on it, because we try to make it really clear that these are arrests and not actual convictions," Thornton said.
The cover of the paper has a disclaimer in red ink that reads: "Not every arrest leads to a conviction. All suspects are innocent until proven guilty in a court of law."
Thornton added that the editorial philosophy of Gotcha! has evolved.
"With the cover, for example, we now put a strong news headline and will feature one of the biggest crime stories," Thornton said. "In the past, when we first launched, the front page was just mug shots."
The latest issue features a large mug shot of a Petersburg man who was arrested for allegedly manufacturing meth. The headline: "Country Cookin'".
As for ethical questions, Thornton said crime stories have always been a major driver in print and online for the Times-Dispatch.
"It's a matter of public record in terms of who's been charged with what crimes in the area," he said. "There is a pretty big interest in crime news in Richmond. We're just providing information that has been highly sought after for a long time through different channels."
Gotcha! has helped lead to arrests, Thornton said, and local police departments use it as a tool to help put the word out about fugitives.
"A good bit is knowing who in my community has been charged with what," he said. "There's a public safety factor there."