It seems like a new barbecue joint is popping up every time you turn around.
Just last week, a second local Dickey's Barbeque location was announced. Big's BBQ opened recently in Chesterfield. And Buz & Ned's opened its long awaited second location in April.
But Tuffy Stone isn't worried. His Q Barbeque outfit has three locations in Richmond and one in Hampton, Va., and Stone just signed on for two new stores, with a combined build-out estimate of more than $1 million.
BizSense caught up with Stone last week to discuss Richmond's barbecue obsession, Q's expansion and keeping up with the competition.
Below is an edited transcript.
Richmond BizSense: It has been a couple of years since we spoke to you about your last expansion, and now you're opening two new locations. This is a big move, right?
Tuffy Stone: It's a big expansion for us, but it's good. We're opening a location at the Corner at Short Pump. And we're opening another one off Hull Street Road at 13800 Fribble Way in Midlothian. That one is going to be our first experiment with a freestanding location. It's in the architectural phase. I expect the one at Short Pump will be completed Oct. 1.
We've got our managers lined up. We get to promote within the company. Our kitchen managers — they started out as line cooks, but we knew they had the skills to run their own kitchen at some point. So what's cool about what we're doing right now is, if you wanted to start working at Q in an entry-level position, if you work hard and apply yourself in the right way, you can move up.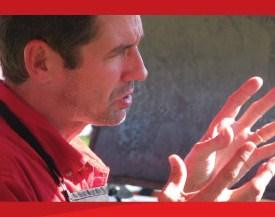 RBS: Are you worried about pulling customers away from other locations?
TS: We're trying to be smart about it. We're constantly asking ourselves questions like: How many restaurants can we put in the Richmond market? What's the impact? Do we cannibalize other locations? We know a lot about our business, but we've still got a lot to learn. But we're trying to be smart.
RBS: There's no shortage of barbecue joints in town. Are you worried about the market getting saturated?
TS: There are a lot of people doing barbecue. But it's our responsibility to figure out what we've got to do to make you come back and eat at our place. What are we going to do to make you happy with the service, the value, the experience and, above all, the food?
We're working very hard on not just expanding but also keeping the other stores going. Because whatever it is — barbecue, Italian, Mexican — you have all these choices about where you want to eat. So it's important that we give you a reason to come to Q.
RBS: What are you looking at as far as start-up costs for the new stores?
TS: We generally fall between $600,000 and $800,000 per store. We've got to sell a lot of barbecue to get it all back. We don't sell a lot of alcohol, so we have to work hard.
RBS: How have sales been at the other stores?
TS: When we opened our original location in Midlothian in 2008, it was in the middle of one of the worst economies ever. I used to have to go in and clean, fill the ketchup bottles, salt and pepper shakers. I used to get the staff to park out front to make it look like it was crowded. All of that to say we started out slow. But we've got a loyal fan base at our stores.
We've been really fortunate. Sales have been good, and they are growing. We're happy with what we're seeing over here. Hampton, well, it's a little different market. We're still trying to figure it out. It's been challenging. We're feeling optimistic about these next locations though.
RBS: Short Pump locations can be tricky. Several otherwise successful businesses have tried and failed out there. Are you worried about making enough to cover the rent?
TS: Maybe it's because of the sagging economy, but rent isn't as high as it used to be. I'd say we're pretty sophisticated in our approach. If we have a rent, we know what we have to do to fill it. And I think we're the kind of tenant that, when we meet with the landlords, they want to have us in there.