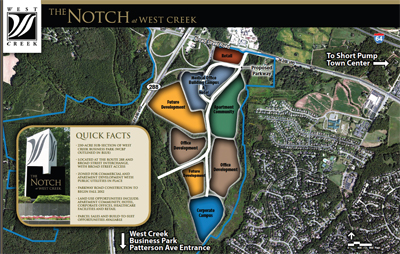 One of the most ambitious commercial developers in the region is about to break ground on a mixed-use component at a massive business park in Goochland.
West Creek Associates, which is run by longtime Richmond developer Tommy Pruitt, is adding a 230-acre, mixed-use component to its 3,200-acre West Creek Business Park, the main Richmond campus for Capital One and CarMax. Pruitt said the first step was to build a road.
Named the Notch at West Creek, the project will include multifamily housing, a medical office park, retail, corporate offices and a road that will connect West Creek to Broad Street.
Pruitt said he is making a large investment in the infrastructure of the property but would not say how large that investment was.
"West Creek has never had any kind of infrastructure on Broad Street," Pruitt said. "This will be the first parkway road that will connect the West Creek Business Park with the vibrant Broad Street corridor."
Pruitt, who developed the Short Pump Town Center mall and also bought the vacant Circuit City headquarters building and leased it to Allianz (formerly Mondial), said the road would be the first priority. Construction will start on the four-lane parkway within 45 days, he said in a phone interview.
The road, which does not have a name yet, will eventually stretch three miles and connect with Tuckahoe Creek Parkway.
Pruitt also said that a 254-apartment complex was under contract with South Carolina-based Kassinger Development Group. Construction on that should also start soon.
Pruitt said there has been enough interest in the medical offices that he is preparing architectural drawings for the first 80,000-square-foot building.
As for the retail portion, Pruitt said there wasn't a huge rush to get it in place before the medical, residential and office components were sorted out.
"I think retail will naturally come about once we have the rooftops and office users in place," he said.
Pruitt said he would like to see restaurants and support services, such as banks, occupy the retail space on West Broad Street.
Pruitt isn't the only developer looking to bring health-care offices to the western edge of the Richmond suburbs. Developer Bob Atack is also planning a medical office and multifamily project a little farther east on West Broad Street in Short Pump. Atack filed a zoning case in May for a 70-acre mixed-use development, but he said the Notch would not hurt his plans.
"I think it's great," he said. "In West Creek you have one of the premier mixed-use developments in the region. The developers are well capitalized and have an eye for high quality."
Atack said that having the West Creek development would help attract medical office tenants to that section of Short Pump. Atack's zoning case will go to the Henrico County Planning Commission for approval on Thursday night.
Matthew Ryan, head of economic development for Goochland County, said this was the kind of development that the county was looking for.
"It's a great asset for the county, and we'll be able to broaden our marketing efforts as a result," he said. "I think mixed-use development is great. It creates a diversified tax base, so that's obviously a good thing."
Ryan said that although Goochland is looking to develop its stretch of West Broad Street, they're not looking to line the corridor with retail.
"Goochland has a strong rural heritage and that's something we want to keep," he said. "There is nothing wrong with Henrico County, but Goochland is not Henrico County. It's unique."