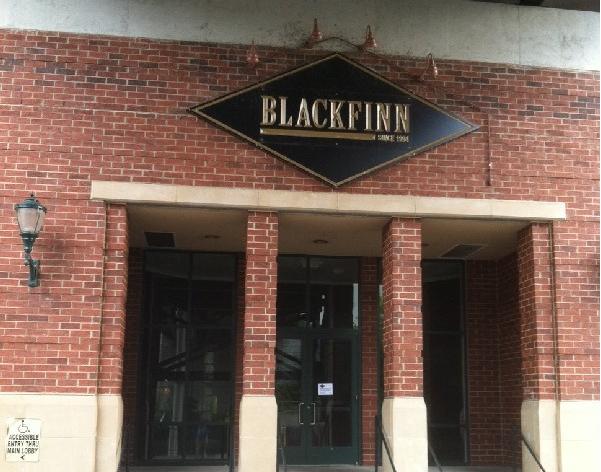 A former trendy night spot that's been closed since May has hired a new real estate broker to lease the space.
When Blackfinn American Saloon on the Canal Walk abruptly closed this spring, operating partner Ryan Golbitz said the restaurant was being sold to a local ownership group that was planning to reopen in the fall.
Four months later, there are no signs of a new restaurant, and building owner American Real Estate Partners has enlisted Cushman & Wakefield | Thalhimer to find a tenant.
"The owners of the property have asked us to assist them in finding a replacement for Blackfinn," said Connie Nielsen, the broker with Thalhimer who is representing the space.
Blackfinn, which still has the lease on the property, was trying to sell the business before it shut down. Two local restaurateurs who were pitched the space said at the time that Blackfinn was asking $17,000 in monthly rent and $350,000 for the business.
Blackfinn was leasing 7,500 square feet in Riverside on the James, which Northern Virginia-based American Real Estate Partners bought for $63.7 million in April 2011.
Douglas Fleit, CEO of American Real Estate Partners, said the site has generated a lot of interest but wouldn't identify who he had been talking to.
"We have received extraordinary response from a significant number of quality restaurateurs who see, as we do, that this is both a special space and location," he said. "We are deliberating on the theme and style of restaurant that we want to see at Riverside and expect to make a decision in the near future."
Riverside on the James is across the canal from the $35-million mixed-use development The Locks, led by Fountainhead Properties and WVS at the old Reynolds North plant. Part of that project includes a new Mexican restaurant in the bottom floor of the Italianate building called Casa del Barco.
Kevin Healy, who owns the popular Boathouse at Rocketts Landing, is developing that restaurant.
Fleit said that once Casa del Barco and the apartments at The Locks are open for business, he expects the canal to be the next new dining hot spot, making his restaurant space even more valuable.