A Richmond-based grocer finally has its first out-of-town location.
Ellwood Thompson's next week will open its long-awaited new store called Dawson's Market in Rockville, Md.
The 17,500-square-foot store is the grocery anchor of Rockville Town Square, a large mixed-use, town center-type development in Montgomery County.
Rick Hood founded the natural/organic grocer in Carytown at the intersection of Ellwood Avenue and Thompson Street.
The company has tried since at least 2009 to expand into the Washington area. It had plans for a 15,000-square-foot store in the District's Columbia Heights neighborhood but put the idea on hold citing at the time the struggling economy.
It then began negotiating with Federal Realty Investment Trust, the owner of Rockville Town Square, in May 2011. Federal Realty also owns the Willow Lawn shopping center.
Ellwood Thompson's spokesperson Becky Lakin said that the build-out began in Rockville this summer and that the store would open Saturday, Sept. 29.
"This has been a process of four or five years of looking at this region," Lakin said.
Although slightly smaller than Ellwood's 20,000-square-foot Richmond store, the new store's product offerings and layout will be similar.
"The difference is going to be in what we carry that's local there," Lakin said.
The company's policy is to carry many products that come from within 100 miles of its stores.
"We've had to go out and find new local vendors" in Maryland, Lakin said.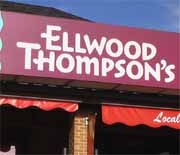 While the Ellwood Thompson's name was inspired by its Carytown location, the Dawson's Market name is based on a bit of Montgomery County grocery history.
The Dawson family is one of the county's oldest families, having settled there in the 1600s and opened one of the area's first general stores, called Dawson's Store.
"Our focus is really supporting the local communities that we are in. Part of that is connecting to them through history," Lakin said. "The name was an effort to do that."
The new store will start out with 80 to 90 employees. That adds to the company's 130 employees in Richmond.
With the long search for a second store out of the way, might a third be in the works?
"Right now we're just worried about this one," Lakin said.