A law firm that became entangled in an investment scam and several federal lawsuits over foreclosure processing has closed its Richmond office.
Friedman & MacFadyen, a debt collection firm that processed a huge number of foreclosures and kept offices in Baltimore and Richmond, recently vacated its office at 1601 Rolling Hills Drive in the Forest Office Park. It occupied a first-floor space in the 36,000-square-foot building.
Several sources familiar with the firm said it has been in the process of shutting down since at least June. Calls to the firm's Baltimore office have gone unanswered this week, and several messages left with its principals since the summer have not been returned. The firm's website is no longer active.
Although it is unclear why the firm is shutting down, Friedman & MacFadyen is the defendant in several federal lawsuits alleging violations of consumer debt collection regulations.
The firm and its principal Mark Friedman also took a big financial hit in 2010 related to a massive investment scam in Los Angeles allegedly run by a relative of Friedman's.
Bruce Friedman, a now deceased relative of Mark Friedman, was arrested in 2010 on charges of running a $228 million investment scam through his Los Angeles company, Diversified Lending Group.
The receiver appointed to recover funds for investors of Diversified Lending Group discovered that $6 million had been transferred from DLG to Mark Friedman and his law firm.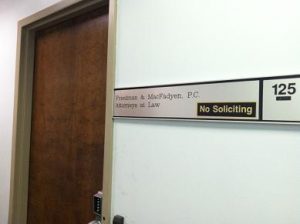 Mark Friedman told the receiver, according to court records, that the money was an unsecured loan to assist in the expenses of his law firm. There was no documentation for the loan, which was made in 2008, nor had any payments been made on it when the receiver discovered the large transfer.
The receiver demanded that Friedman and the firm return the money. Unable to pay in full at the time, the parties eventually reached an agreement whereby the $6 million, plus interest, would be repaid in increments. Mark Friedman maintained he had no knowledge of his relative's alleged scam, according to the court records.
That agreement was made in March 2010, just months before Bruce Friedman was arrested in France for his involvement in the scam.
He died in a French prison this year while awaiting extradition to the United States.
The receiver continued his attempts to recover funds despite Friedman's death.
According to reports out of Baltimore, Friedman and MacFadyen also had been accused by some consumers of and questioned by Maryland regulators about processing foreclosures using falsified signatures and without legitimate oversight. The process, known as "robo-signing," was exposed at many large lenders nationwide in the wake of the real estate market crash.