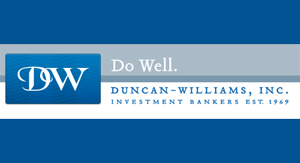 A veteran of the local bond-trading scene is helping a Memphis firm expand into Richmond.
Dan Cardani last month opened the Richmond office of Duncan-Williams, targeting broker-dealer bond transactions and aiming to build a wealth management practice. The new office is the investment banking company's first in the commonwealth.
"One thing led to another, and they asked if I could open a Richmond branch, because they are very much in expansion mode," Cardani said. "I saw it as an opportunity to work with a quality, well capitalized firm where we can expand."
Cardani, 64, has worked in the financial industry for three decades. A graduate of the University of Findley in Ohio, he came to Richmond in the 1990s when he went to work selling bonds for Wheat First Securities, before it was acquired by First Union.
He later worked for BB&T Capital Markets and joined upstart Cortview Capital Securities in 2010.
He resigned from Cortview in June 2012, shortly before the company announced it was to be acquired by Connecticut firm Pierpont Securities in a deal that closed last week.
Joining Cardani at Duncan-Williams is David Woods, a Midlothian native and James Madison University graduate who was also previously with Cortview. Cardani said he plans to continue to grow his team here.
In addition to its home base in Tennessee, Duncan-Williams has 16 locations, including in Cleveland, Charlotte, New York and, for now, an office suite off Colony Parkway in Midlothian. Those digs are temporary, Cardani said.
"My vision will be to get back downtown," he said.
Cardani and Duncan-Williams want to get the word out that there's a new alternative to such big local players as BB&T Capital Markets, Davenport & Co. and Sterne Agee.
"I like to think we can give them some competition," Cardani said.