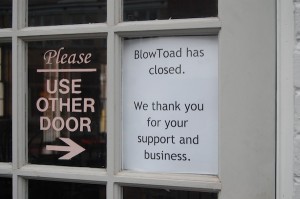 BlowToad, a Carytown pizza joint owned by Richmond chef Jimmy Sneed, has closed after less than a year in business.
The restaurant opened about 10 months ago and specialized in coal-fired pizza. It took over the space at  2907 W. Cary St. previously occupied by Double T's Barbecue.
Sneed co-owns vegetarian bistro Fresca on Addison with daughter Jenna. His other past restaurant ventures included The Frog and The Redneck in Shockoe Bottom, which closed in the early 2000's.
The building is owned by Cary Donlon LLC, according to city records.
BizSense was unable to reach Sneed.