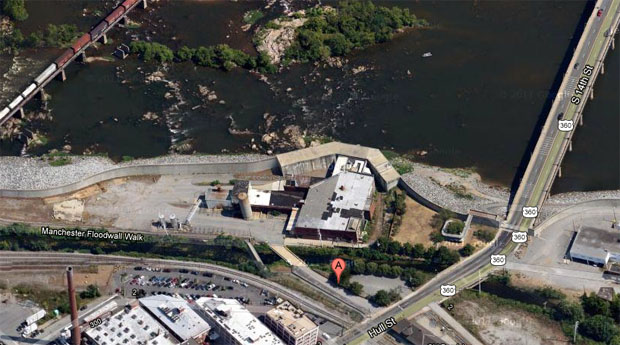 A planned $15 million rehab project for an old paper mill that nearly became a pile of rubble last year will be underway by this summer.
Tom Papa, principal at Fountainhead Properties, said construction at the old Caraustar paper mill next to the Fourteenth Street Bridge in Manchester will begin once he clears the final hurdles with the city, including negotiations over infrastructure improvements in the area.
The 92,000-square-foot building at 115 Hull St., dubbed the South Canal Lofts, will house 93 apartments, Papa said. The developer is finalizing details with KBS to be the general contractor.
"The cool thing about South Canal is that it will be totally geared towards the river," he said. "It's right next to the James River trails, so we're going to spend money on bike and kayak racks and other amenities."
Papa, with his business partner Rick Gregory, had to practically jump in front of a wrecking ball last year to close the deal on acquiring the building. Caraustar, unaware of Fountainhead's plans for the property, had put the building under contract for demolition.
Papa and Gregory were horrified to see the wrecking crews roll up on their project and had to negotiate with the demolition company to keep the structure standing, which they needed to get the historic tax credit money.
Eventually the developers had to roll the cost of the canceled demolition into their closing costs for the building, paying about $152,000 more for the building than they wanted. Fountainhead paid $850,000 for the property.
In addition to the 93 apartments at South Canal, Papa said Fountainhead will likely be moving forward on the Miller Manufacturing plant by this summer. The two-city-block, 180,000-square-foot complex is slated for 193 apartments at a cost of around $30 million, he said.
Papa said he is still reviewing final bid for the general contractor on the project. He also said he sees no evidence of a softening market for apartments.
"We're over 95 percent full, and every other apartment developer I know is in the same position. And once there is enough supply of housing, box and service retailers will follow," he said of the downtown and Manchester markets. "We're almost there, and I believe that to my bones."
Fellow developer Robin Miller of Miller & Associates agreed that the market would stay strong.
"I've got one vacancy at 909 Perry," he said, referring to a 43-unit new construction apartment building he built last year in Manchester. "And that's someone who just moved out. That's going to happen. But everything is performing very well."